African Women in a Changing World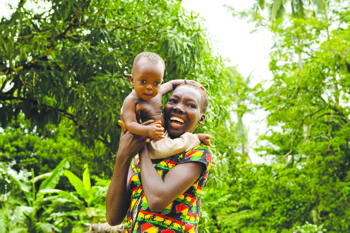 The circumstances of women in Africa are a conundrum complicated by patriarchy and bias. Although women constitute the cornerstone of African economic development, they are often less likely to know how to read or write, have access to health care and occupy low-skill jobs.
According to statistics provided by the Organization for Economic Cooperation and Development, women harvest 90 percent of all food and provide about 70 percent of agricultural labor and produce on the African continent. Women's economic activity rate, which measures the percentage of people who furnish the supply of labor for the production of economic goods, ranks highest compared to other regions of the world.
And data from Africare substantiates the reality of women's circumstances. Studies show that African women carry enormous responsibilities producing food, caring for their families and investing in their communities, yet only 15 percent of Sub-Saharan African landowners are women, fewer than everywhere else on earth. Discrimination in ownership rights, sexual discrimination and exploitation, illiteracy and disease stymie the ability of African women to lift themselves out of poverty and develop livelihoods that provide much needed security for their families and communities.
Yet more and more, African leaders are recognizing and acknowledging the challenges women face, and are using the powers of their office and partnering with civil society and other organizations to begin to reverse the varied trials women face.
Last year, at a panel discussion at the U.S. Institute for Peace in Northwest, Cape Verde Prime Minister José Maria Pereira Neves, who presides over a string of islands off the coast of West Africa, said any development his country hopes to see can't happen without the full participation of women.
Neves said it is critical to cater to the needs of young people and women because every African country's success is tied to including them in all aspects of that country's growth and development in ways that go well beyond lip service.
"We must invest in education, university training and professional and technical training to create conditions so that they can be employed," he said primarily of young people. "Women represent the future of humanity, period. I have budgets that include gender questions and issues. We must reduce the inequality of the distribution of power and wealth.
"We must now say, 'beside every great man is a great woman …"'
Change continues to move across Africa during Women's History Month and beyond. Two women, Ellen Johnson Sirleaf and Joyce Banda, are heads of state in Liberia and Malawi and a range of organizations are immersed in helping women become self-sufficient and independent.
Kabeh Sumbo represents the new African woman. Sumbo owns and operates a business providing locally processed oils to hotels, restaurants, and the general public in Liberia and also ships abroad to the U.S.
The Liberian native is a graduate of the Goldman Sachs 10,000 Women initiative, a five-year $100 million investment which assists underserved women entrepreneurs in 40 countries, including
India, Brazil, Liberia and China with a business and management education. Research indicates that investing in the power of women is one of the most effective ways to reduce inequality and facilitate inclusive economic growth. And investing in education, Goldman Sachs studies have shown, leads to more productive workers, healthier and better-educated families, and ultimately to more prosperous communities.