African Women in a Changing World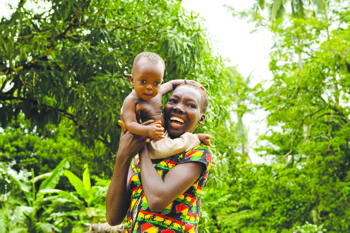 "My mother was a market woman," Sumbo recalled. "She used to give us plantains and bananas and I took them to school and elsewhere to sell. Sumbo opened two new warehouses for her African oil processing business in order to cater to her growing roster of clients and also has six more employees since she completed the 10,000 Women program.
The mother and grandmother said she extremely proud of being a business owner and points to CHF International based in Silver Spring, Md., as providing her with some of the tools she's needed to build her business.
Her daughter works with her and Sumbo also support two nieces, a nephew, three foster children, and three children of former co-workers who passed away. On the day Sumbo graduated from the program, Liberia's president instructed the government's land ministry to give about 100 acres of land to expand her business.
"It has not been easy in such a way for us to get our food to market," Sumbo said during an interview she granted during a U.S. visit. "There's no road network. But President Sirleaf loves market women and wants market women to succeed, get our foods to market, be able to connect with other people and improve our lives.
"Some men are there. They're very happy for women to take the lead. In the market, women and men are competing. We're playing our role. We're no longer letting men do everything. Life has not been easy but thank God. We Liberian women are champions for change. You train one woman, you train the nation."
At Africare's 43rd anniversary gala last year, one of the organization's honorees, agreed.
"Africa is moving forward, there's no question about that," said billionaire businessman and telecommunications magnate Mohamed "Mo" Ibrahim. " … Now the landscape is changing in Africa and two forces – women and youth – is what I think will change the continent."
Ibrahim heads the $5 million Mo Ibrahim Prize for Achievement in African Leadership for African heads of state who practiced good governance and transparency while in office, and who selflessly restructured their governments and transformed citizens' lives.
"The position of women in our societies is still not acceptable. Women are the wonderful pillar of the continent. Women produce 70 percent of agriculture, take care of the kids, school, food, the house, etc. Men maybe work a little bit – they do the occasional work. It's very important to see the rise of women's organizations and now the landscape is changing in Africa. These two forces, women and youth, are what I think will change the continent."