Darrel Thompson Wants Education Reform in Ward 6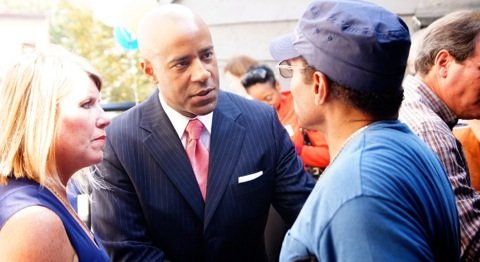 Ward 6 D.C. Council candidate Darrel Thompson (D) released his plan Monday for educating the ward's young people.
His plan, called "Classrooms to Careers," would equip students with the necessary skills to get a full-time employment by the time of graduation.
"Access to a quality education is critical for a student's chance to build the knowledge and skills necessary to not only get a decent job, but to start a career," said Thompson, a former aide to U.S. Senate Majority Leader Harry Reid (D-Nev.). "When I talk to parents and teachers across Ward 6, I'm told over and over that they're concerned about Ward 6 youth."
Thompson's plan includes more pre-kindergarten classes, making sure that subjects offered in elementary school are extended at a more advanced level in middle and high schools, more after-school and summer programs, extending the school day and year, and providing vocational training.
Thompson said that a better educational system in the ward will benefit all residents.
"We will have a stronger economy when every student in Ward 6 has the opportunity to gain critical knowledge-and the skills to build a career," he said. "I will hold regular forums with parents by neighborhood to make sure I am hearing and responding to parents' concerns and ideas to improve education for every kid. We have to work to make sure students receive a quality education from pre-school until they wave their graduation caps."