D.C. Mayor Gray, Officials Break Ground for Skyland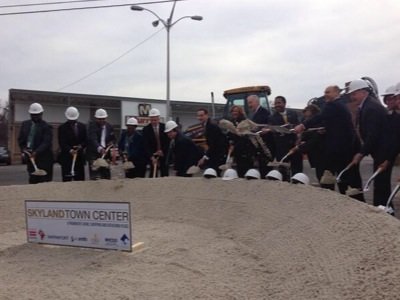 The prospect of high-end retail shopping in D.C.'s Ward 7 took a step closer to reality Wednesday when Mayor Vincent Gray (D), along with Deputy Mayor for Planning and Economic Development Victor Hoskins and other community leaders, broke ground on the Skyland Town Center in Southeast.
The town center will feature a new urban Wal-Mart, neighborhood retailers and some dine-in restaurants.
Gray said he is proud that his administration worked hard and diligently to get the project moving.
"We have accomplished what many said was impossible-clearing a path to transform this underutilized and blighted site," Gray said. "This is a red-letter day for Wards 7 and 8, as Skyland Town Center will bring much-needed amenities to an area that has long been underserved."
The development team of Rappaport and W.C. Smith, who will work on the project, also had representatives at the event.
Mayors from Marion Barry to Adrian Fenty have professed desire to develop the floundering shopping center into a profitable destination for businesses and high-end apartments and condominiums, but have been sidetracked by various issues. In addition, the multiple owners of the site made it difficult for city leaders to coordinate its development.
The project's development was also slowed by previous mayors' own priorities. Anthony Williams focused on developing downtown, the Southwest waterfront and the Foggy Bottom areas. His successor, Fenty, worked on H Street in Northeast, Petworth and the Northeast area of North Massachusetts Avenue, or NoMa.
Gray has invested approximately $40 million in the project for acquisition, tenant relocation, property management and legal fees.
Hoskins said the benefits of Skyland will go beyond its immediate neighborhood.
"After decades of waiting, the residents of Wards 7 and 8 will soon have access to quality retail that now exists in other parts of the city," he said. "Bringing quality retail amenities and much-needed jobs to this community is what this project is all about."