D.C. Political Roundup: Grosso Wants to Shake Up District Elections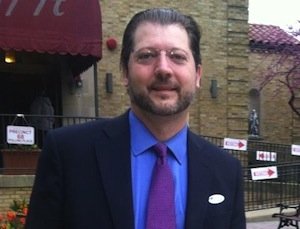 When D.C. Council member David Grosso (I-At Large) took office in 2013, he promised not to just sit back and wait for his turn – as expected of new legislators – rather, he set out to make a difference in the John A. Wilson Building in Northwest. He authored bills that dealt with the criminal justice system and campaign finance last year and now he wants to change the way the city conducts its elections.
Grosso introduced three bills on March 4: The Instant Runoff Voting Amendment Act of 2014; The Open Primary Elections Amendment Act of 2014 and The Clean Hands Elections Reform Amendment Act of 2014. The "Instant Runoff" bill would provide a method of casting and counting votes using a system of ranking candidates in the order of choice and the candidates with the least number of votes would be eliminated.
"It is extremely troubling that candidates can be elected to public office with as little as 30 percent of the vote," said Grosso, 43. "This important legislation will increase voter turnout as voters will be free to mark their ballots for the candidate that they truly prefer without fear that their choice will help elect their least preferred candidate. More importantly, instant runoff voting ensures that the elected candidate has true majority support."
The "Open Primary" bill would allow registered voters to change their party affiliation through Election Day and "The Clean Hands" bill requires candidates to receive certification from the Office of Campaign Finance that proves that candidates previous campaigns and political action committees don't owe back taxes, fines or fees.

"By requiring candidates to certify that they have 'clean hands' when it comes to their prior campaigns, we will encourage our candidates to be more attentive to the elections and campaign finance rules," he said.
D.C. Dems Press for Statehood
Members of the D.C. Democratic State Committee lobbied their colleagues aggressively in other states and territories to support the District becoming the 51st state at the Democratic Party Mid-Winter meeting that took place on Feb. 27-March 1 at the Capital Hilton in Northwest.
"We passed out literature that was given to us by DC Vote and Anise Jenkins of Stand Up for Democracy," said James Bubar, a member of the D.C. delegation who attended the meeting. "We wanted people to know that we D.C. Democrats want statehood and we want our rights as American citizens."
The Democratic National Committee supports District statehood and other issues, such as changing its congressional representation in the U.S. House of Representatives from a non-voting delegate to a full member. The support for statehood is so strong that when Estelle Lloyd, a member of the delegation, presented a resolution on Feb. 28 to the Eastern Caucus, it immediately won approval without a vote.
D.C. statehood efforts have been bolstered by politically active entertainers like Mario Van Peebles, who has produced a video in support of the cause and the results of a survey that Jenkins's organization recently circulated, indicate overwhelming support across the country.
D.C. Council member Anita Bonds (D-At Large), who is chairman of the D.C. Democratic State Committee, said that District Democrats will not rest until statehood is achieved.
"We need members of Congress to understand that our plight is fair and just," said Bonds, 68. "They know that we should have a vote in Congress because we pay federal taxes and fight in wars. We want to be treated like Americans, which is what we are."
Evans Number One on Ballot
When District Democrats go to the polls on Tuesday, April 1, they will notice that Jack Evans will be the first name they see on the mayoral portion of the ballot. Evans happens to be first, followed by Andy Shallal, Reta Jo Lewis, Vincent Orange, Muriel Bowser, Vincent Gray, Carlos Allen and Tommy Wells.
In the at-large race, the first candidate's name will be John F. Settles followed by Anita Bonds, Nate Bennett-Fleming, and Pedro Rubio.
Tamara Robinson, the spokeswoman for the D.C. Board of Elections, said that a lottery determined ballot order and it took place in February.