Developer Donates $1M to Teach for America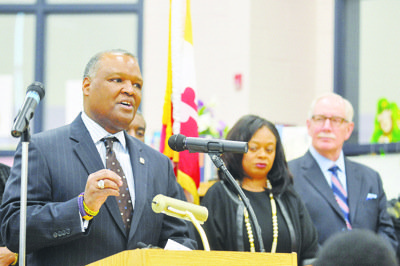 Classrooms in Prince George's County maybe getting more assistance from a national education nonprofit after the developer of National Harbor pledged a $1 million donation to the organization.
Prince George's County Executive Rushern L. Baker III (D) announced the gift on Monday, March 10 at William W. Hall Academy in Capitol Heights. The Peterson Family Foundation, which includes the developer of National Harbor, said it would donate the funds to Teach for America over the next four years with monies specifically earmarked for Prince George's County Public Schools (PGCPS).
"Since moving to Prince George's County, being a parent to three PGCPS graduates, and serving as an elected official, I have made it a point to ask everyone who works and lives in Prince George's County to think about how they can contribute to the success of our county's children," Baker said during the event.
"To have a partner like the Peterson Companies step up in such a significant way is a great example for other businesses and individuals in our community ... Like I've said, 'education is everybody's business.'"
The funds will be used to recruit, select, and train recent college graduates and professionals to teach in the D.C. region of Teach for America. In addition, the donation will pay for ongoing teacher support and professional development, including one-on-one teacher mentorship and coaching and continuing support with veteran education experts, according to officials.
Kevin M. Maxwell, the CEO of Prince George's County Public Schools, said the contribution will help enable Teach for America to continue to attract quality educators to the school system.
"Teach for America has a tremendous track record, not just in Prince George's County but across the region and the nation," said Maxwell, 65. "The program has made significant contributions to our system."
The organization currently has 100 teachers working in 39 schools throughout the county. The organization's D.C. chapter started a partnership with the county school system in 2007 with an initial group of 25 first-year teachers.
MenSa Ankh Maa, principal at William W. Hall Academy, said he entered public education in the D.C. region as a Teach for America corps member in 1998.
"Teach for America has played such a major role in helping to shape and develop me as an educator," Maa said. "And Teach for America continues to have a significant impact on me. Three corps members are currently teaching in my school, and it is very meaningful for me to encourage the positive impact I see them having on students each day."
Officials with the local chapter of Teach for America said the donation would go a long way in preparing young teachers for the classroom.
"This [investment]... will strengthen Teach for America's presence in Prince George's County, where we have already seen great progress in partnership with the school system, students and families," said Katherine Bradley, Teach for America D.C. Regional Board
Chair. "...All children — in every home, school and region of America — deserve access to an excellent education."
Since 2012, Baker has been
pushing for county-based businesses to get more involved with community youth and the education system. Earlier this month, county officials announced the Youth@Work/ Summer Youth Enrichment Program that will allow young people to participate in career development, job readiness training and employment opportunities.
Officials said the youth enrichment program and the Peterson Foundation's involvement in the education system shows progress in Baker's goal of engaging businesses.
"Mr. Baker has been a big proponent of mentorships programs," said Scott Peterson, a county spokesman. "He's always been [asking what] more can be done to get [businesses] involved with our kids."
Business owners, too, agree with Baker's push for their involvement.
"County Executive Baker is right on point when he says that 'education is everybody's business,' and our family is proud to answer that call," said Milt Peterson, chairman of the Peterson Companies. "Prince George's County is on such an upswing, and we agree that investing in the county's public schools through proven, successful programs like Teach for America is a critical component to keep building that momentum."
For more Prince George's County/Maryland news, follow @JoshuaGarnerDC on Twitter.