EDITORIAL: To Lead, You First Must Serve
3/12/2014, 3 p.m.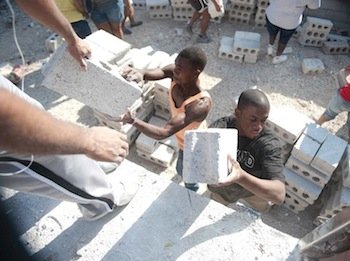 Mother Teresa once said "Love cannot remain by itself – it has no meaning. Love has to be put into action and that action is service," while others remind us that service is the price we pay for our space on this planet.
Which is why it never gets old hearing about college students and other young people opting for a Spring Break of service, rather than catching sun and partying on the beaches of Daytona, Pensacola and Cancun.
This weekend, a group of Howard University students joined thousands of other college students as they headed off to points across a compass of service. While their peers will be having fun, students involved in Alternative Spring Break (ASB) will be making a significant difference in the lives of the vulnerable and people in need of a hand up.
In a time when it's passé for adults to routinely dismiss young people on a whole as lazy and lacking direction, actions like this remind us of young peoples' capacity for good and restore our faith in human kindness. More than 350 Howard University students will be working in the cities including the District, Haiti – which is yet to fully recover from the devastating 2010 earthquake that took more than 250,000 lives and left an already struggling island nation reeling – Detroit, Memphis and Chicago.
They will be volunteering, mentoring, and teaching and helping families and individuals who are wrestling with a range of issues, including poverty, HIV/AIDS, illiteracy, gang and gun violence, homelessness and education. In Haiti, the task is more complex and revolves around providing medical assistance, education, fighting poverty and helping to rebuild the broken infrastructure.
Howard students have been at the forefront of Alternative Spring Break activities and the institution has won a number of awards and recognition for the work since 1996. For the last several months, student organizers held fundraisers and used other means to secure the money they'll need to finance their activities over the course of the next week.
On a larger scale, Howard and other students are in the process of changing our world. We adults have done a poor job and are hanging our children a world that is fraught with problems that threaten to tear families, communities and countries apart.
We need new ideas, and young people with energy and commitment to tackle the many problems that face us. The need for these young people of vision is even more necessary because the hyper-partisanship and brinksmanship means there's little getting done in Congress like creating jobs, repairing the country's severely weakened infrastructure and providing a quality education for all children. The priorities of our national leaders are skewed. They immediately offered the Ukrainian government $1 billion in loan guarantees, while continuing to slash federal assistance to veterans and savaging the safety net for the elderly, the homeless and university graduates saddled with more than $1 trillion in debt.
So until the majority of those elected to serve us come to their senses, it's up to us and our young people are a great place to start. They possess the vision, fearlessness, love and courage to fight for change and they aren't so jaded and beaten down that they don't believe they can be the instruments of change.
It is a fine thing these students are doing and The Washington Informer commends Howard University and everyone else involved in this endeavor.