D.C. Mayor Gray Defends Himself, Touts City's Accomplishments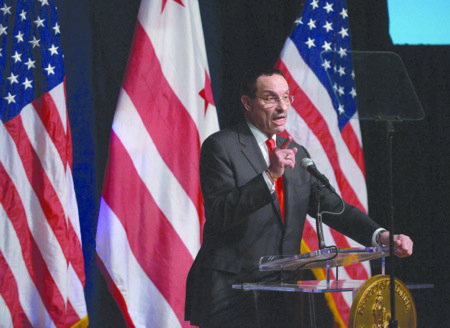 "I say this to all of you clearly and unequivocally, I did not break the law!"
With those words, Mayor Vincent C. Gray began an unabashed defense of his innocence in a campaign corruption scandal that exploded Monday afternoon following an appearance in federal court of the man prosecutors say has tied Gray to campaign misdeeds.
The State of the District Address at Kelly Miller Middle School in Ward 7 was supposed to be a coronation for Gray — a mere three weeks before the April 1 primary. But Jeffrey Thompson's court appearance March 10 put Gray on the defensive and cast doubts on his ability to win a second term in a crowded field.
Thompson, once described as the kingmaker of D.C. politics, pled guilty to two counts of conspiring to violate federal campaign finance laws, submitting false filings to the Internal Revenue Service and conspiring to violate District campaign finance laws.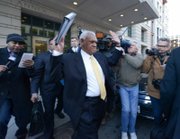 Ron Machen Jr., U.S. Attorney for the District of Columbia, and federal authorities have been pursuing Gray and others involved in developing and propagating a $633,000 shadow campaign for almost four years. The U.S. Attorney's Statement of Offense refers to Thompson as a prolific political donor who secretly provided 28 federal and local political candidates and campaigns with about $3.3 million, of which $2.29 million was siphoned off to campaigns in the District.
The feds say that between 2006 and 2011, Thompson channeled $1.3 million to finance covert shadow campaigns for seven local candidates. Only Ward 6 Council member and mayoral candidate Tommy Wells hasn't taken money from Thompson, who also financed parts of Hillary Clinton's 2008 presidential bid.
Machen promised to blot out the corruption that pervades D.C. politics.
"Election after election, Jeff Thompson huddles behind closed doors with corrupt candidates, political operatives, and businessmen, devising schemes to funnel millions of dollars of corporate money into local and federal elections," he said. "Today's guilty plea pulls back the curtain on years of widespread corruption. With Mr. Thompson's cooperation, we have the opportunity to hold many wrongdoers accountable and to usher in a new era of honesty, integrity and transparency in D.C. politics."
The standing-room only crowd of a wide and varied cross-section of Gray supporters, administration officials, staff, friends and some detractors gave Gray, 71, lots of love.
At the start of his remarks, Gray waved at the audience with chants of "Four More Years!" resonating throughout the auditorium. Gray acknowledged Ward 5 Council member Kenyan McDuffie, Ward 7 Council member Yvette Alexander, former Council member Sandy Allen, and Eric Washington.
"Before I go any further, and before I thank my host and talk about this wonderful school, I want to address what happened yesterday," said Gray. "Federal authorities, who have conducted a wide-ranging investigation into years of campaign and election fraud, brought a man to justice yesterday. That man sought to illegally subvert the election of President Barack Obama and illegally pumped money into 28 District and federal campaigns and elections over the past decade."