D.C. Mayor Gray Engulfed in Scandal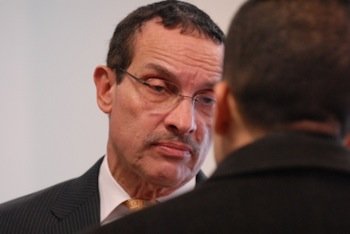 D.C. U.S. Attorney Ron Machen Jr. dropped a bomb in the midst of the mayor's race on Monday when one of the city's most prominent donors pleaded guilty to two counts of conspiring to violate federal campaign finance laws, submitting false filings to the IRS and conspiring to violate District campaign finance laws.
Thompson, 58, once ruled the roost in the city, lavishing money on a parade of past and present local politicians, including Council members Jack Evans, Vincent Orange, Muriel Bowser, David Catania; Jim Graham; former Council members Kwame Brown, Michael Brown, Harry Thomas Jr.; and former Mayor Adrian Fenty.
The only person on the council not to have received money from Thompson's deep pockets is Ward 6 Council member Tommy Wells.
"This is a sad day for D.C. government, but justice is prevailing. The U.S. Attorney has ensured that Jeffrey Thompson won't get away with illegally putting a mayor and council members in office so he could get multimillion dollar contracts," said Wells. "I'm the only candidate running for mayor who has never taken money or benefited from Jeffrey Thompson or his associates. That's why I was never subpoenaed or questioned in this case — unlike the other council members. Muriel Bowser, Vincent Orange, Jack Evans were all subpoenaed. I'm the guy who Jeffrey Thompson tried to defeat — because I guess he knew I couldn't be bought."
"People deserve to know their government isn't corrupt."
The prized scalp Machen and federal prosecutors seek is that of Mayor Vincent. C. Gray and Thompson's appearance in federal court signals Machen's intent, now out in the open to nail Gray. In federal court, Thompson said he'd made more than $2 million in under the table contributions to campaigns, including Gray's 2010 mayoral bid.
Thompson asserts that Gray had extensive knowledge about the web of illegal fundraising that propelled him to win the 2010 election campaign. The feds say Gray was aware of the covert and illicit actions that allowed him to bolster the Gray campaign with $663,000 in illegal campaign contributions which Gray has strenuously denied.
"Election after election, Jeff Thompson huddles behind closed doors with corrupt candidates, political operatives, and businessmen, devising schemes to funnel millions of dollars of corporate money into local and federal elections," Machen said. "Today's guilty plea pulls back the curtain on years of widespread corruption. With Mr. Thompson's cooperation, we have the opportunity to hold many wrongdoers accountable and to usher in a new era of honesty, integrity and transparency in D.C. politics."
Longtime D.C. political activist Jeri Washington said she's neither surprised by Thompson's guilty plea nor the likelihood of Gray's involvement.
"I knew something was going down which is why I didn't attach myself to any campaign," she said. "This is definitely a game changer. And it should be. I can't see any conscious voter not taking this into consideration. I have never, ever supported Gray. He did nothing in Ward 7, for Ward 7."
Washington said she believes that Gray's actions mark him as someone who's paranoid and very unsure of himself although he exudes an air of self-assuredness. She also described the man who once represented her ward as very selfish and self-serving and too willing to "throw anybody under the bus."
"Vince can say it's lies but Jeff Thompson has been able to connect the dots of all the people involved. I'm just sitting back and watching, eating a big bowl of popcorn."
Jennifer Moore, a business owner in Northwest had a different view.
"I support the mayor and I volunteered for his campaign. He's done great things for the city," she said. "You're innocent until proven guilty and they have not proven anything. It's just hearsay. I will vote for the mayor."
Kenneth Moses, a 62-year-old retired teacher said Gray has an uphill battle.
"His chances have decreased significantly. Even if he makes it to the general election, he still has to face Catania. I would still vote for him," said the Northwest resident. "Corruption happens all throughout the city. Gray's performance has been favorable and everything has been going up. But he hasn't been able to help the less fortunate in the city. I wouldn't say that he was out of it but this race will be something to watch. We'll see how things go as they unfold. But right now, I'm leaning toward Gray."