Local Program Prepares Girls for College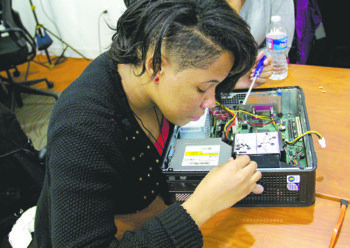 The African proverb "each one, teach one" calls on elders to pass on values and traditions to the next generation. Pearls of wisdom that older, experienced people provide youth can help them lead healthy and fulfilling lives.
Twanisha Mitchell, manager of youth programs at the Young Women's Christian Association (YWCA) in Northwest, has taken that message to heart. Nearly two years ago, she set out to create a program that provides mentorship for young girls, strengthens academic skills, and reinforces positive behavior.
"Mentoring is a huge part of the program, We pair the girls up with people who will ensure their academic growth throughout the year. This is our opportunity to educate and advocate for them," said Mitchell, who lives in Alexandria, Va.
Through the EMPOwERgirlz Youth Mentorship Program, 30 District girls pair up with mentors who represent various local universities and work in diverse career fields. The youngsters and teenagers, whose ages range from 6 to 17, meet twice a month at the YWCA. Over the course of 14 sessions, they sharpen their academic skills and talk about issues that they face as adolescents.
During the Saturday, March 8 session, the group of girls learned conflict resolution methods, reviewed portions of the SAT, and discussed career plans with their mentors. A subgroup of middle and high school girls known as Sapphires and Pearls later listened as Florentia Spires, an Albert Einstein Distinguished Educator Fellow, talked about her career in the STEM field.
The Rubies, a subgroup of girls whose ages range from six to nine, discussed the importance of healthy eating, time management, and adequate rest with members of Strive for College, a national organization that prepares low-income students for post-secondary studies. Toward the end of the five-hour meeting, the girls exercised and prepared presentations for a closing ceremony to take place in May.
Aleathia L. Adams, chief program officer at the YWCA, said the variety of programs helps the girls understand the importance of an education and provides them with a foundation to tackle common problems that adolescents often face.
"Our goal is to help these girls grow into independent women," said Adams. "It starts early. Middle school is a crucial time for girls [because they're] figuring out who they are and what they want to do with their lives. The mentorship, academic enrichment, and the presentations are part of a holistic approach that helps them grow so that they can handle any situation that comes their way."
D'Mia Jackson, a third grader at Excel Academy Public Charter School in Southeast, often engaged in conversation with the guest speakers throughout the day. During the session on bullying, she provided anecdotes about her experiences in the classroom and on the playground. Nearly seven months after joining the EMPOwERgirlz Youth Mentorship Program, D'Mia said that it has become a place where she can safely express her opinions and become a better student.
"My mentors understand me and they know what to say when I tell them about my problems," said D'Mia, 8, of Southeast. "My favorite part about this program is seeing friends who encourage me to do positive things. I want to be a teacher one day and hopefully the first black female president. This program helps me to reach my goal by teaching me things that I can use in my life."
The EMPOwERgirlz Youth Mentorship Program counts among one of the YWCA's numerous offerings. Since its inception in early 2013, the curriculum has expanded to include health and well-being, STEM, academic preparation, and leadership development. Last October, the group of girls and mentors railed against the sex trafficking of minors during an event at President Lincoln's Cottage in Northwest.
Ameena Green, who has served as a mentor since September, said it provided an opportunity for her to engage in service and connect with District youth.
"It's exciting to know that I can make a difference in someone else's life," said Green, 19, a Howard University junior from Detroit. "I didn't get a lot of mentorship when I was growing up. As mentors, we learn patience and teamwork while bridging that generational gap. They get to hear what about what we are doing and we get to learn what they are going through."