Pepco's Edison Place Gallery Celebrates Girl Scouts Week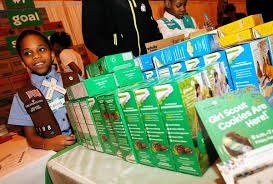 The Pepco Edison Place Gallery in Northwest is hosting an exhibit in honor of the Girl Scouts, as the organization holds its annual weeklong national celebration.
The exhibit — "It's Our Story, Girl Scouts in our Nation's Capital" — is open through Friday and includes a "Cookies and Milk Storytelling" reception at 5 p.m. Thursday. The event will feature author Ann Robertson, who will share stories about the Girl Scouts Council and her book, "Images of America: Girl Scout Council of the Nation's Capital."
"We are proud to once again host the Girls Scouts at the Edison Place Gallery, which was home to the Girl Scouts' 100th Anniversary Sing-Along in June 2012," said Debbi Jarvis, Pepco's vice president of corporate, citizenship and social responsibility. "Scouting opens a wide variety of opportunities to thousands of girls by building self-confidence and strengthening their moral character."
National Girl Scout Week, which began Sunday, runs through Saturday. The Gallery also will also be open Saturday from noon to 4 p.m. for Scouts in the region to view the exhibit, meet other local troops, sell cookies and exchange badges.
The annual event comes as the organization fends off criticism from a Boston-based consumer advocacy group urging the Girl Scouts to sever ties with Barbie manufacturer Mattel, claiming the doll sets a poor example for young women.
"Holding Barbie, the quintessential fashion doll, up as a role model for Girl Scouts simultaneously sexualizes young girls, idealizes an impossible body type, and undermines the Girl Scouts' vital mission to build 'girls of courage, confidence and character,'" Susan Linn, director of Campaign for a Commercial-Free Childhood and the Center for a New American Dream, told the Associated Press.
Officials at the Girl Scouts headquarters in New York have rebuffed the plea, however, saying that their alliance with the toymaker focuses on career exploration and teaching girls about inspiring women in a fun way.
"We stand behind this partnership, as it helps us bring to over two million Girl Scouts the message that they can do anything," the Council said in an issued statement.