Young Black Men Commit to Academic Excellence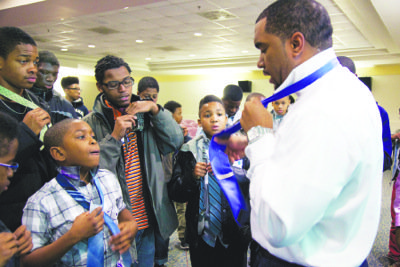 A group of youth from across the Washington metropolitan region learned important life skills and affirmed their commitment to academic excellence during a daylong conference at a local university last month.
The Black Man Can Institute, a national nonprofit that provides support for young men of color, hosted the event. The Saturday, Feb. 22 gathering at American University (AU) kicked off a national tour that includes stops in Boston, Long Island, N.Y., and Memphis.

Nearly 40 youngsters connected with men from various industries during workshops that touched on brotherhood, building self-confidence, philanthropy, dressing well, and conflict resolution. Brandon Frame, founder and chief visionary officer of the Black Man Can Institute, considers the annual conference one of the organization's prime offerings.
"All the young men came away with something at this conference," said Frame, 26, of Hartford, Conn. "Our goal is to motivate, educate, uplift, meet their cultural needs, and inspire these young men of color to be something great. We brought men who want to uplift our young kings."
A 2012 study conducted by the Annie E. Casey Foundation found that young men of color were more than two times likely to get suspended from school than their white and Asian counterparts. In addition, nearly 50 percent of black males across the nation drop out of high school annually. Half of high school dropouts remain unemployed or come in contact with the criminal justice system, costing the United States nearly $260,000 per person in lost earnings.
Quentin Johnson, AU's assistant director of admissions, advised the group, whose ages ranged from six to 16, to take their studies seriously and lay the foundation for a prosperous future during his keynote address.
"You only have your high school years to prepare for tomorrow," said Johnson, 33. "Soon you won't be minors and the laws get a lot stricter. Everyone can make six figures, but it takes a lot of hard work. How much work are you willing to put in to make six figures? If you want to be a part of the game, you have to act like it," said Johnson who lives in Northwest.
After a short opening ceremony, guest speakers led interactive, hands-on presentations that prompted the youngsters to think about their career goals and develop communication skills. Presenters reflected on their career paths and provided anecdotes of transitioning from high school into college and eventually into the professional world.

Keyon T. Hammond, an executive chef at the Regency Club in Dominion Valley, Va., showed a group of young men how to cook chicken stir fry while providing insight into the nature of the hospitality industry. He later passed out samples of his dish along with a recipe that included only healthy ingredients.

"The children enjoyed learning from a person they could relate to," said Hammond, 28, who lives in Manassas, Va. "Eating healthy should be a part of their lives. It's very important that they understand how it will positively affect them. When I was their age, eating healthy was the last thing on my mind so now I have to recoup."
Marcus Noel, founder of Heart of Man, a clothing company that provides mentorship for low-income youth, asked students to identify personality traits and interests they could market in their personal and professional lives. Students later analyzed the marketing campaigns of prominent American corporations. Noel said the activities helped instill confidence in the group of youngsters.
"Self-identity is a prerequisite for success," said Noel, 27. You have to be comfortable in your own distinction and then eventually you become more attractive to people. You become successful as a result," said Noel who lives in Bowie, Md.
Frame and a group of men later distributed neckties and journals and led the group in the reading of a pledge that espoused the values of brotherhood, resilience, and academic excellence. The youngsters later received certificates for their completion of the workshop.
Christian Debrow, who attended the conference with his cousin, considered the activities extremely enlightening.
"This was a new experience," said Christian, 17, who lives in Landover, Md. "A world-class chef has never showed me how to cook. I really liked doing positive, fun things."