Early Voting in D.C. Begins Monday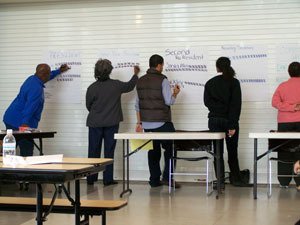 Early voting in the District for the April 1 primary election will begin on Monday.
The voting will take place at One Judiciary Square, 441 4th Street NW, in the Old Council Chamber, and will operate daily from 8:30 a.m. to 7 p.m. except Sunday, March 23. The last day for early voting is Saturday, March 29.
Additional early voting centers will open March 22 at 12 locations around the District and are listed on the D.C. Board of Elections' website.
District residents may register to vote at One Judiciary Square and must show one piece of proof of residence. Valid proof of city residence includes: current D.C. Department of Motor Vehicles-issued identification cards; a government check or paycheck; bank statement, current utility bill or lease; other government documents showing name and current address; statement from a student housing/resident facility and statement of occupancy from a District homeless shelter.
Those who register to vote on the same day will be issued a special ballot, which will be counted once the Board of Elections verifies the information provided by the voter.