COMMENTARY: Let the Madness Begin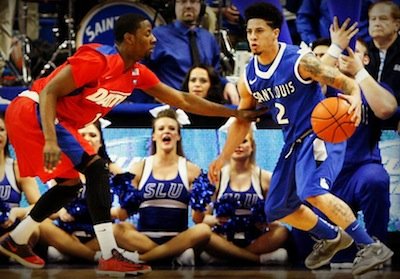 I've been waiting twelve months for this.
"March Madness" is finally here. And it's the best event in all of sports.
Over the years, the NCAA men's basketball tournament has become my favorite event on the annual sports calendar. College basketball's regular season is over. The conference tournaments are behind us. The brackets are set and it's time to get it started. Get ready folks, it's on!
The World Series is great. So is the NBA Finals. Then, there's the Super Bowl which is often filled with drama and excitement. It is the most widely viewed sporting event in the world.
But the Super Bowl, with all its grandeur, newly released commercials and slickly produced halftime show, only lasts a few hours. March Madness runs for three weeks. and during that stretch of time, the popularity of all other sports pale in comparison.
March Madness features 68 teams playing in four geographic regional brackets. These squads represent schools from all across the country and they play in venues from coast-to-coast. Big schools, small schools and mid-size schools are all present. Some teams have multiple NBA prospects, while others have none. Some have great regular seasons, others only make the tournament by winning their conference championship. Many of the participating teams have a long history of March Madness appearances, while for some are first-timers. No matter how you slice it, this tournament represents a diverse, eclectic group of competitors and coaches who have accomplished something special by qualifying for this tournament.
In the 50-year history of the wild and unpredictable tourney, the only constant from season to season is the ensuing drama. Amid the big-time performances, buzzer-beaters and shocking upsets, there's always a "Cinderella" — an underdog team emerges that threatens to win it all. Interestingly enough, Cinderella has never won the tourney, but it doesn't make it any less captivating to watch.
Cinderella has made it to the conference semifinals, and along the way, it has left four fallen opponents in its wake. In many instances, three, sometimes four of these beaten teams were seeded higher than Cinderella. So we have a modern-day sports version of David conquering Goliath. Add it all up and you've got a three-week basketball frenzy that keeps you on the edge of your seat. Thus, Madness!
The fans are another special element associated with college basketball and March Madness, in particular. Fan bases and supporters from 68 schools descend on various sites all across America to root their teams to victory. As we all know, college basketball fans are some of the most intense and loudest of any fans on the sports landscape. The focus and intensity is turned up during March Madness, primarily because it's a single-elimination tournament in which the loser has its season come to an abrupt ending. In addition, there are no home games in this tourney. Some teams may play at a site near their home court, but it's a road trip nonetheless. And, every fan base wants their road trip to continue as their respective teams advance. No one wants to go home with the bitter taste of defeat lingering in their mouths. Therefore, the enthusiasm reaches a fever pitch.