$3.4B Proposed for Prince George's County Budget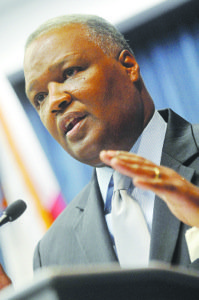 A larger police force, increased spending for public schools, and expanded hours at public libraries are being proposed under a $3.4 billion budget Prince George's County Executive Rushern L. Baker III announced last week.
"We had to make some very tough budgetary decisions," Baker (D) said during his March 13 presentation to the county council. "We have focused our resources … to achieve the best results."
The proposed 2015 fiscal year budget placed a priority on county schools and public safety. Funding for county schools made up $1.8 billion of the budget, roughly 63 percent – an increase of 6 percent from the previous year. Under the proposal, as many as 150 new police officers could be hitting county streets by 2016. County firefighters will also see additional resources with 35 new recruits being added to the workforce.
In total, the proposed budget increased by 4.4 percent, about $142 million, from the previous year, Baker said. Revenues to the county, which are heavily reliant on property taxes, increased by $136.5 million, roughly 5 percent, from FY 2014. The figure includes a 3.1 percent increase in property tax revenues.
This year's budget comes at a time when the county has been maneuvering to position itself as an economic engine for the region. Baker hopes to revamp the county's image to attract more businesses and affluent residents.
Officials point to $4 billion in investments coming to the county in the upcoming years including a billion-dollar casino set to arrive at National Harbor by 2016 and a proposed $645 million regional medical center that would modernize the county's medical system and help revitalize the Boulevard at the Capital Centre in Largo, as evidence progress is being made. County officials have also been campaigning to lure the FBI headquarters from Northwest D.C. to relocate adjacent to the Greenbelt Metro Station.
Since 2011, county officials have been dispensing funds from the Economic Development Incentive (EDI) fund to attract and keep businesses in the county. The fund initially included $50 million, under the proposal, $13 million will be released from the EDI during the fiscal year. Baker said the funds are expected to maintain or create 1,600 jobs in the county.
"We are transforming Prince George's County. We are quickly becoming the place to be in the region," Baker said.
But transformation hasn't been easy.
Facing a $111 million deficit headed into the fiscal year, county officials decided to begin grouping budgetary items together in clusters. Baker said the clusters allowed agencies within the county to prioritize spending, ultimately helping to close a rolling deficit the county has been experiencing since 2008.
Property and income tax revenues are still recovering from the 2008 recession; during that time, county revenues were going down the drain.
"We still need to make tough choices," said Thomas Himler, county deputy chief administrative officer. "It's a good budget that continues to invest in our priorities."
Officials continue to point to bright spots in the budget. Funding for the county's library system essentially remains flat at $26.5 million but includes the opening of seven branches on Sunday. Since 2008, the county's library system had been staving off budget cuts that eventually included staff reductions and the elimination of Sunday operating hours for all but a handful of branches.
The budget still faces a lengthy approval process by the county council, which must adopt a budget by June 1.
Prince George's County Council Chair Mel Franklin (D-Dist. 9) of Upper Marlboro said that the council will preserve fiscal responsibility during the budget process.
"The council and our legislative branch staff look forward to collaboratively working with the county executive and his team to produce a final budget that reflects our shared values, and strengthens the communities we represent," he said.
For more Prince George's County/Maryland news, follow @JoshuaGarnerDC on Twitter.