Bowser's On a Future Quest for the City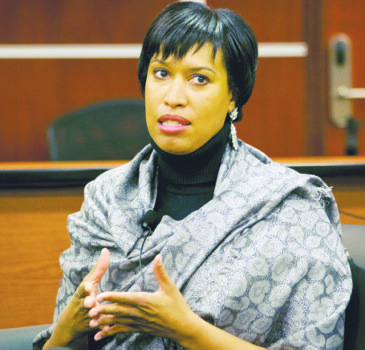 Muriel Bowser has been on the stump since March of last year, trying to cement her bid to succeed D.C. Mayor Vincent C. Gray (D), and two weeks before the April 1 primary, she has been slated by a number of pundits and analysts to be the candidate to beat.
Bowser, 41, has been endorsed by the Washington Post and Emily's List, won some straw polls, sits second behind Gray in the race to succeed him, and has a head of steam going into the April 1 primary.
The plea deal by local businessman and uber-donor Jeffrey Thompson on March 10 rocked Gray's campaign and Democratic voters are left to consider if they can vote for a man sullied by a $600,000 shadow campaign and accused of political hijinks in his 2010 campaign.
Bowser, a proud fifth-generation Washingtonian, said there should be urgency to prepare the city for the demands of new residents but she said she senses none in the Gray administration.
"Outside of the scandals and stuff, growth in D.C. is why I'm running," said Bowser, who has represented Ward 4 since 2007. "We want growth but that future will shape us if we don't shape it. It's projected that the District of Columbia could grow to 800,000 residents. The demands on the infrastructure is real. Nobody wants to be smooshed; people want to be able to move around."
"I've been concerned about the current administration's vision for the future and getting ready for the 200,000 people coming here. Metro needs $26 billion, public housing needs $1.3 billion to maintain and create housing units and water and sewer improvements would cost between $3 billion to $4 billion. We can handle the money but do we have the will, the vision, to push through?"
Bowser said growth, as reflected in gentrification cannot be reversed but she said there needs to be sensitivity and commonsense applications to help smooth out gentrification's rough edges. She sees herself as a bridge between the new Washington and residents who are holding onto vestiges of the old city and who worry about being swept away in the tide of gentrification.
"The way I talk about it in the campaign is that people want to live in a diverse city," said Bowser. "The government steps in and says 'we need a thriving middle class.' I've always believed that people want the same thing, no matter where they live. They want to live in safe neighborhoods, have good schools, more opportunities and a better opportunity for their children."
"They sense that growth is good but (they) want a diverse city."
Bowser describes herself as a political junkie who grew up in a household where she was shepherded and groomed by mom Joan, a nurse, and father Joseph, who worked with D.C. Public Schools as a facilities manager and who also served as an advisory neighborhood commissioner for more than 30 years.
"My mom grew up in Foggy Bottom, my dad grew up in LeDroit Park and I grew up in North Michigan Park," Bowser said. "My dad spent 30 years as an ANC. He has been a part of everything (in my campaign). He has a very pure political instinct and good judgment in politics. And my mother … He can tell you everything that happened in the city council because he watches it on TV. He's a good guy."