Bowser's On a Future Quest for the City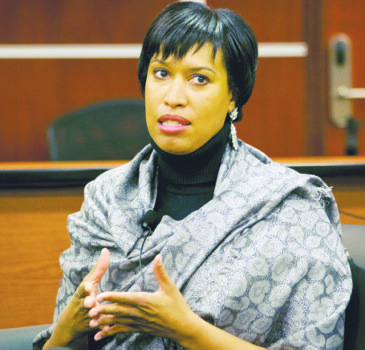 "My family reflects the good Washington."

She said she customarily works 16-hour days, making appearances, attending forums every night and spends countless hours in living rooms of residents across the city listening to their concerns. Bowser said her campaign offers a fresh approach and takes on governing, versus an administration that in addition to being embroiled in scandal is tired and unoriginal.
"It's tragic to witness," said Bowser during a March 13 interview of Gray's problems. "It's a flagrant betrayal of the public trust. Under the table money was traded for a government contract. It confirms to people the worst of what they think of elected officials. It tarnishes (those) who break the law and shakes people's trust."
"But people are very excited that I was willing to step up and confirm that we need change. I stepped up and started the conversation. The focus is on leadership. Voters want someone who'll approach government with a new set of eyes."
Bowser said she has a wealth of experience that she brings to the mayor's office and points to speeding up school reform, closing the achievement gap between black and white students, strengthening the safety net for homeless individuals and families, investing more money and resources into affordable housing, and investing in areas of growth as issues she would prioritize.
The city she envisions is one that is growing, protects diversity, provides well-paying jobs and gives people of all classes and stripes a place at the table and served by a government that is ethical and honest.
Bowser owes a lot of her political standing to former Mayor Adrian Fenty, who she succeeded as Ward 4 council member. He endorsed her in a special election to replace him and she garnered 40 percent of the vote over 19 challengers.
Many see Fenty in Bowser which is at times a blessing and a liability.
Meanwhile, not everyone sees Bowser as the antidote to a city in search of a strong, creative, ethical chief executive.
"I don't think much of Muriel. She comes across as calculating and opportunistic. And she says one thing and votes for another. She's weak, not ready," said Dionne Brown, a management consultant who lives in Ward 8. "The ethics legislation she introduced wasn't as groundbreaking as they said."
"The Washington Post's motivation is to push out Gray. They realize she stood the best chance of the pack. They have also given her an inordinate amount of press. She has the Fenty connection. I don't think she's ready or sincere. She's shallow but she may improve over time."
"Fenty had the drive to overcome his unpreparedness. He brought in people with fervor, fire. She's lukewarm, not bright. She grew up in D.C. but lived in Montgomery County until 2000. I think she just wants her gratification. I don't think she's really interested in the city."
Dorothy Brizill of DC Watch offered an equally scathing assessment. She described Bowser's council career as "lackluster" adding that "as a legislator, Muriel doesn't have an impressive record in the introduction of legislation or the use of the council to solve important public policy issues … Muriel doesn't work well with her council colleagues. She is not well liked or trusted by them, and many of them consider her a lightweight. Even before council members all started running against each other to be mayor, you couldn't find another council member who would speak well of her."
Bowser is annoyed and angered at such characterizations, pushing back against those who seek to paint her in such unsavory terms.
"Sometimes I bristle at questions about my record," she said. "Nobody says anything to other candidates because they're not young, black and a woman. I didn't just hatch from an egg. I know what good government means."
Bowser said she has worked with Montgomery County local government, helped manage the revitalization of downtown Silver Spring and has seven solid years on the D.C. Council where she chaired important committees and developed far-reaching ethics legislation.
"I'm not a novice. I came into this position knowing the problems and good practices. I know that the city needs a good leader with vision, someone who is flexible enough and has the courage to say 'I got this wrong,' change course and get it right."