D.C. Political Roundup: Talk about White's Replacement Begins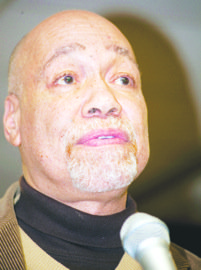 Trayon White, Ward 8's D.C. State Board of Education member, announced on March 6 that he's leaving that post for a full-time job with the District government. Little time had elapsed before the ward's political leaders and activists started wagging their tongues about who should replace him.
Philip Pannell, a well-known District political and civic activist hasn't hesitated to let people in the ward know his intentions since White announced his imminent departure.
"I am running for the position," said Pannell, 63. "I do not feel that Mr. White did enough for the children of Ward 8 and I will."
Pannell has served as treasurer of the Ballou Senior High School PTSA in Southeast and has also helped to raise money for its nationally known marching band. He's been the president of the Ward 8 Democrats and currently serves as the president of the Congress Heights Community Association.
Pannell has also served on the District of Columbia Public Library Board of Trustees. Today, he works as the executive director of the Anacostia Coordinating Council.
Charles Wilson, a leader in the Historic Anacostia neighborhood and the advisory neighborhood commissioner for 8A04, said that he has no intention of running for the position.
"I am always looking for opportunities to serve but I am in the same position that Trayon is in," said Wilson, 38. "I work for the District government."
Wilson said that he heard that Pannell is running. There's also speculation that Darrell Gaston, the advisory neighborhood commissioner for 8B02 will throw his hat into the ring.
Gaston could not be reached for comment for this story.
Anthony Muhammad, the advisory neighborhood commissioner for 8E02 said he's not a candidate for the board of education and Natalie Williams, the president of the Ward 8 Democrats and advisory neighborhood commissioner 8A07, will not run either.
"Philip is the only person I have heard so far," said Williams, 43. "Philip has a solid interest in advancing the schools in the ward," she said.  
Tamara Robinson, the spokeswoman for the D.C. Board of Elections, explained the process for filling White's seat.
"Mr. White has to write a letter of resignation to Deborah Nichols, chair of the board," Robinson said. "The chair will declare the position vacant and an election will be held on the first Tuesday after 114 days [has elapsed] and the seat declared vacant."

Mayoral Candidates Bash Catania
D.C. Council member David Catania (I-At Large) declared his run for mayor in the November general election last week and he's already the subject of political attacks from his potential opponents.
Three Democratic candidates for the party's mayoral nomination on Tuesday, April 1 – D.C. Council members Muriel Bowser (D-Ward 4) and Tommy Wells (D-Ward 6) and District entrepreneur Andy Shallal – participated in a debate sponsored by DC Music at The Eclipse in Northeast on March 12 and immediately weighed in. When asked if they would support the Democratic nominee for mayor, the three had varying responses but made it clear that they did not want Catania to lead the city.
"I think that Mr. Catania is a rather difficult person," said Shallal, 58. "I see him on the council as more of a micromanager. I have not seen a lot of leadership from Mr. Catania."
Wells agreed with Shallal.
"David Catania is a former Republican and is an angry white guy," Wells, 57, said snickering.
Bowser, 41, said that she will not support Catania either.
"I do expect for my opponents," she said looking directly at Shallal and Wells, "to support me in the general election."
Bowser didn't commit to supporting the winner of the primary.
"I'm not going to support just anybody," she said.