EDITORIAL: Scandal, Inc.
3/19/2014, 3 p.m.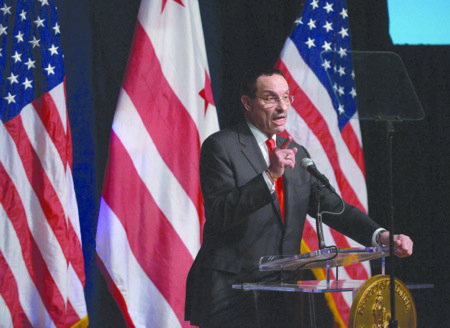 Once against, Washington D.C. is being roiled by a political scandal that has shaken the public's faith in the legislative arm of our city.
Like a person peeling back layers of an onion, D.C.'s U.S. Attorney Ronald Machen, Jr., has been deliberately revealing various parts of the 2010 shadow campaign that saw the injection of more than $600,000 into the Gray campaign. Most Washingtonians abhor the criminality and corruption that is an unfortunate by-product of politics and even before businessman Jeffrey Thompson pled guilty to campaign violations and implicated Gray, prospective Democratic voters had indicated in surveys that Gray's guilt or hints of that would affect whether they would vote for him.
Thompson asserts that Gray was fully aware of the covert campaign to pour illegal money into his election bid. Gray has called him a liar.
So far, in a wide-reaching almost four-year federal investigation, Machen has brought down people close to Gray but until last Monday none of them directly implicated Gray. The mayor has been insistent from the very beginning that he was unaware of the illicit payments and that he is innocent. He has apologized several times to different audiences and in different forums, and he took to the airwaves, last Monday to again proclaim his innocence.
To black Washingtonians in particular, this case reminds them of the fallibility and vulnerability of their black leaders. In a city seeking to assert itself as fully grown politically and able to handle its own affairs, scandals like this are a body blow, and illustrate to the District's assorted detractors – whether rightly or wrongly – that we aren't ready yet.
One commonly heard sentiment lately – and a continuing source of anger – is that D.C.'s black elected officials are being unfairly targeted. Machen says he's intent on rooting out corrupt public officials anytime, anywhere, but the question several people have asked is, are there no corrupt white elected officials? Surely, people argue, there are whites involved in shady dealings and questionable practices that rise to the level of corrupt, unethical and maybe even criminal behavior. Where are the investigations, public shamings and indictments in these cases, they ask? They wonder why even though Thompson spent almost as much money on the 2008 Hillary Clinton campaign as he did Gray's, the feds aren't going after Clinton despite the similarities in what Thompson did for each of their campaigns.
Clinton and Gray denied any knowledge of the fact that monies siphoned into their campaigns were illegal. But Clinton has gotten a pass, some Gray supporters say, because of her prominence and her color.

Another grouse Washingtonians of all colors and stripes have expressed is the idea that by waiting until the eve of the primary election to drop the Thompson plea deal on an unsuspecting public, Machen is seeking to unfairly influence the election to Gray's detriment. Anyone familiar with D.C. politics knows what could be called the Marion Barry effect.
While he led the city, particularly in his latter terms, the Barry administration was wracked with a range of problems and assailed with allegations of corruption, cronyism, unethical behavior and questionable judgment by those in charge. Barry's support among some constituencies despite his problems, and his ability to win against seemingly insurmountable odds, confounded critics and opponents alike.

To Barry supporters, the reason was simple: They despised the idea that anyone – particularly white people – should tell them who to vote for. They love Barry because of his dedication to the city's black residents and sought to show that they would choose their own course. This could happen with Gray on April 1.
Unless Machen drops another bombshell and returns an indictment before then.