Eloise Greenfield's Lifelong Love of Words Inspires Young African-American Readers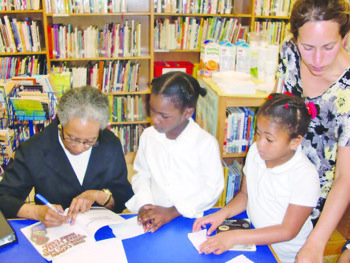 "I was about seven or eight when my mom bought it for me, and it was about this little boy who wanted to read to his mother. But she was busy taking care of the family, so he would read to his baby sister," Jeffries, a daycare provider, recalled. "I would read that book over and over."
Greenfield's second book, "Rosa Parks," won the Carter G. Woodson Book Awards in 1973.
"I quit my job a couple of times so I could take the time to write it," Greenfield said. "In between, I'd work a few days here and there as a temporary office worker just so I'd have time to write and earn some money."
Angela Robinson of Southeast Washington, fondly remembers purchasing Greenfield's books for her sons' library.
She said however, that prior to discovering Greenfield's work in the late 1980s, it had been difficult to find books that resonated with her children.
"In looking for ways to build my children's library at an early age, it was important for me to find authors whose stories emphasized self-esteem and featured characters who looked like my children," Robinson said. "Greenfield has a passion for children and stimulating their creative and literary skills . . . I encouraged my sons to read all the time and I found that her books – which were well-written and illustrated – to be classics that had been around for years." Robinson said she hopes that the books she purchased for her sons will be passed on to their children and grandchildren.
Over the years, Greenfield – who's published by HarperCollins – has authored 45 books that include novels, poetry and biographies.
Known for her descriptive and rhythmic style, she has received numerous awards and honors for her writings – including, "How They Got Over: African Americans and the Call of the Sea," illustrated by Jan Spivey Gilchrist that won a Bank Street Children's Book Award, and the Coretta Scott King Honor Award for "Childtimes: A Three-Generation Memoir," that she co-authored with her now-deceased mother, Lessie Jones Little. That book, she said, is her favorite.
Greenfield's latest book published in 2010, "The Great Migration: Journey to the North," which explores the migration of African Americans from the South between 1915 and the 1930s, is conveyed in poetry.
"I wrote the book because I wanted to get an overview of what that movement was about and how some of the people in it were thinking," said Greenfield, adding that her second favorite book is always the one most recently published.
Phoebe Yeh, who now works as an editor for the Random House publishing group in New York, said it was a delight to work with Greenfield at HarperCollins.
"It was always a pleasure working with her and I welcomed the opportunity," said Yeh, who edited Greenfield's books. "She's a genius – a wonderful, wonderful writer and an exquisite poet."
Meanwhile, Greenfield has slowed her pace the past few years due to difficulty with her vision. But she said that will not interfere with her writing.
"I'm still working long hours and enjoying it," said Greenfield, who added that she's content with her life and looks forward to spending time with her children and their families.
"I'll be writing the rest of my life because it's what I love, it makes me happy and it doesn't require any physical strength," she said. "It's important for me to make this kind of contribution to my hometown and society."