Greater Washington Urban League Receives Huge Contribution
Donation Part of Settlement Agreement
Sam P.K. Collins | 3/19/2014, 3 p.m. | Updated on 3/28/2014, 1 p.m.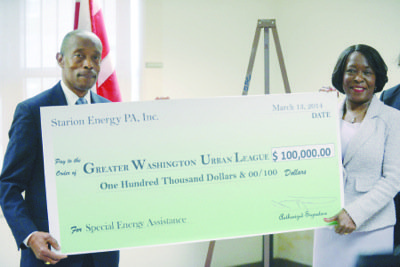 EDITOR'S NOTE: An earlier version of this story inaccurately reported that Starion Energy was penalized for unethical practices. The alternative energy company voluntarily contributed $100,000 to support energy assistance in the District as part of a settlement agreement with the Office of the People's Counsel.
A local social services organization received a sizeable financial contribution as part of an agreement between a District agency and an alternative energy company.
The Greater Washington Urban League (GWUL) will lessen the financial burden of residents starting in April with the Special Energy Assistance Fund. The organization secured the funds, which total $100,000, as a result of a settlement agreement reached by the D.C. Office of the People's Counsel (OPC), an agency that advocates of behalf of consumers who use utilities in the District.
"This is a victory for D.C. residents," said George H. Lambert, president and CEO of GWUL during the March 13 press conference at the organization's headquarters in Northwest. "We consider this the delivery of a safety net. This settlement will deter non-compliant behavior against the disenfranchised."
In 1999, the D.C. Council passed the Retail Electric Competition and Consumer Protection Act which broke Pepco's monopoly on the energy market and allowed consumers to use alternative services. The law, which went into effect in 2003, also prohibited the addition of service charges without permission and slamming, the change of a service supplier without the customer's consent.
Unfortunately, some energy providers did not comply. More than 500 residents submitted complaints to OPC in 2013 that described deceptive marketing and billing practices of Starion Energy, a Southbury, Conn.-based alternative energy provider, and six other electric companies. During a D.C. Public Service Commission hearing last July, 21 people recounted instances of aggressive marketing by Starion and up to a 50 percent increase in their bills despite assurances that they would save money.
As part of the settlement agreement, Starion made a voluntary contribution to the community organization of OPC's choice. The People's Counsel Sandra Mattavous-Frye said the outcome sends a warning to companies that take advantage of low-income residents.
"The case goes to the center of what concerns residents the most," said Frye. We received complaints of deceptive pricing, unlawful changing of accounts, and other shady business practices. "[These alternative energy providers] were targeting our seniors and homebound residents. We're sending a message to businesses that they are welcome if they abide by the rules in D.C. They need to do their best to make sure D.C. residents are served."
D.C. Councilmembers Mary Cheh (D-Ward 3), Kenyan McDuffie (D-Ward 5), and Jim Graham (D-Ward 1) counted among the first public officials to express support of the OPC's efforts. As a result of the settlement, those affected by Starion Energy's actions will also receive reimbursements totaling $65,000.
Wilson Reynolds, director of constituent services in Graham's office, said the contribution helps low-income residents at a time when energy prices have risen by 20 percent.
"Our colleagues in the energy industry have not been bashful about asking for rate increases," said Reynolds. "That's why we have to celebrate something that is going to help the residents of D.C. The Greater Washington Urban League has been a leader in these causes. It's fitting that it's happening within four blocks of senior and low-income housing communities."
Ronan Gulstone, director of the D.C. Council Committee on Government Operations, spoke on behalf of McDuffie and applauded the efforts of OPC in finding a solution that best serves the interest of District residents.
"A settlement is always preferable to a long drawn out case," said Gulstone. "District residents come out on top. We are ecstatic that the Urban League will administer this fund. We know that it will go to the neediest residents."
Public Service Commissioner Joanne Doddy Fort considered the contribution to GWUL the perfect example of the work that nonprofit organizations and local governments can do together.
"We have been thrilled that this partnership took place as a part of the process," said Fort. "We are sure that this will benefit D.C. residents. Growth in the competitive energy market must not be done at their expense. We want the District community to know that the commission will monitor the activities of the competitive energy providers to ensure that their business practices do not harm consumers."