JACKSON: Obamas Send Wrong Messages
Raynard Jackson | 3/19/2014, 3 p.m.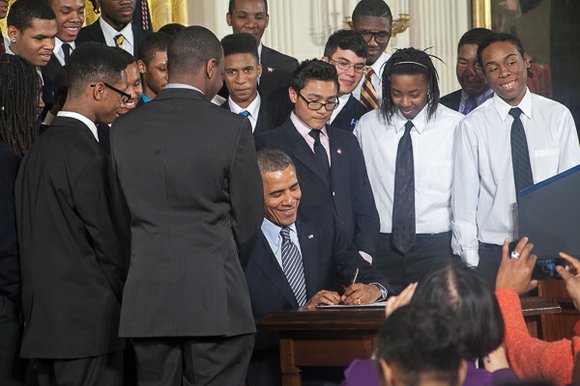 Allow me to share a few lyrics from Beyoncé's most recent CD, Drunk in Love: "I've been drinking; I get filthy when that liquor get into me; I've been thinking; Why can't I keep my fingers off it, baby?"
On her song Bow Down: "I know when you were little girls; You dreamt of being in my world; Don't forget it; Respect that, Bow down b—-es; Don't get it twisted this is my sh-t, bow down b—-es."
There more. On the song Partition: Oh he so horny, he want to f—k; He bucked all my buttons, he ripped my blouse; He Monica Lewinski all on my gown."
And the First Lady want to be like that?
Beyoncé has become the Howard Stern of music – vulgar simply for the sake of shocking the public. Her concerts border on pornography, yet, Mrs. Obama had no problem taking her two daughters (Malia, 13, and Sasha, 10 at the time) to watch Beyoncé perform two years ago in Atlantic City.
Here is a Twitter exchange between Beyoncé and Michelle Obama before the concert: "Michelle, thank you so much for every single thing that you do for us. I am proud to have my daughter grow up in a world where she has people like you to look up to." Obama's response on twitter: "@Beyoncé Thank you for the beautiful letter and for being a role model who kids everywhere can look up to. –mo."
The president and his wife are sending out conflicting messages. Kids need to be told and shown how to behave. You can't support legalizing marijuana and then tell kids not to use it. You can't tell little girls to carry yourself like a young lady and then tell them you want to be Beyoncé.
That's not Drunk in Love. You have to be plain drunk to think that Beyonce should be anybody's role model.
Raynard Jackson is president & CEO of Raynard Jackson & Associates, LLC., a Washington, D.C.-based public relations/government affairs firm. He can be reached through his website, www.raynardjackson.com. You can also follow him on Twitter @raynard1223.