LETTERS TO THE EDITOR: Go Wizards!
3/19/2014, 3 p.m.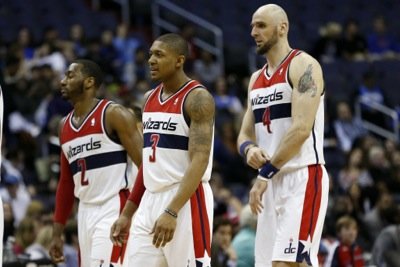 I am so excited for the Washington Wizards! I mean, it really looks like they are going to be in the playoffs. Stacy M. Brown's article, "Wizards Living Up to Promise," in the March 13, 2014 publication, provided a great inside look in terms of how the players feel about the season so far.
It was great to see John Wall and Bradley Beal featured at the All Star Game this year, and they both made us and the future of the Wizards look really good.
But the one thing that I believe is responsible for the success of the Wizards this year is the acquisition of center Marcin Gortat. His presence in the center has helped change the way the whole team plays. They pass the ball more, set more picks and play more like a team that wants to win games.
I'm not a big fan of General Manager Ernie Grunfeld, but I have to give him high marks for the move that brought Gortat to the Wizards. It was outstanding! It's not going to be easy once we get into the playoffs, but I'm just so excited that we are once again going.
Let's go Wizards!
Sonny Canton
Riverdale, Md.
A Rush to Judgment
The Washington Informer's coverage of the mayor's State of the District Address by Barrington Salmon, "Gray Defends Himself, Touts City's Accomplishments," which appeared in the March 13, 2014 edition, was by far the most non-biased news article written about this investigation.
Most of the news in other media outlets have tried, convicted and labeled the mayor a criminal. Jeffrey Thompson gave money to any number of politicians, and I'm sure if you were running for office and needed money for your campaign you would ask a well-known, well-connected fundraiser like Thompson. Remember, he wasn't a criminal or suspected criminal in 2010. He gave money to a lot of politicians: Clinton, Fenty, and many others.
This whole situation reminds me of the way the FBI went after Marion Barry when he was the mayor. They tried everything to make him look dirty in the eyes of the public, finally settling on a set-up sting operation with him and an old girlfriend smoking drugs.
The black political establishment in Washington D.C. is under siege right now. There are those who not only want to dismantle it, but completely destroy its credibility and its ability to put forth credible candidates for elected office.
James W. Harrelson
Washington, D.C.