Possible Indictment Clouds Gray Re-Election Bid
Barrington M. Salmon | 3/19/2014, 3 p.m. | Updated on 3/20/2014, 10:39 p.m.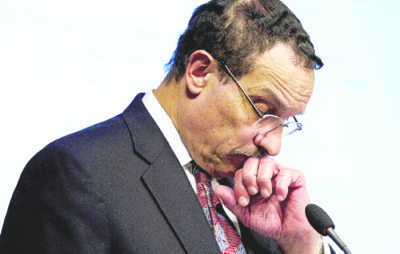 Earlier this week, Bennett said he expects Gray to be indicted even though Machen hasn't proven that the mayor did anything wrong but he vowed not to make a plea deal and fight Machen in court.
David Bositis, a longtime political analyst, said little has surprised him.
"I don't think it really says anything about the state of D.C. politics. Gray was only elected as an antidote to Fenty who was a radical change for D.C.," Bositis said. "There's a tendency for people to characterize big-city politics as corrupt. If not, you have (a Michael) Bloomberg as the czar. Who needs the people then?"
Bositis, a noted author and researcher, said the prosecution has used methods straight from "the prosecutor's playbook" which is to start at the lowest level, give deals to lower-level people and then work your way up the food chain.
"Consideration was given [to those who could] implicate Gray," he explained. "I don't have any insider information, but I would guess an indictment is coming. They have to get all their ducks in a row. But I don't feel an indictment will come after April 1 … There's a good chance that they wouldn't do it before because they don't want to interfere with the primary."
Management consultant Dionne Brown said that she supported Gray during his 2010 mayoral campaign. At the time, she said, she felt good about volunteering to get Gray elected.
At one point, Brown said, it became apparent that a great deal of money was flowing through the campaign with new staffers getting paid, as well as other evidence of large amounts of money being spent on the campaign.
In retrospect, said Brown, a former Advisory Neighborhood Commissioner in Ward 8 who knows D.C. politics well, said she believes Gray is guilty of financial misdeeds.
"There are no surprises …," she said. "There are a lot of other people who're defending him in the press. He was outpolling Fenty. I couldn't have imagined that that much money was coming in. I was a volunteer. When the shadow campaign ramped up, the new people were getting paid."
For Avis Jones-DeWeever, the scandal dogging Gray saddens her.
"I love the District. [I made a decision to buy an affordable home outside of D.C. to raise my two kids], otherwise, I'd still be here," said DeWeever, 45, president and CEO of Incite Unlimited, LLC., a local consulting firm. "It's very disappointing to see anything that besmirches the level of respect the city deserves."
"The city itself is depressed because it lacks representation. It just gives more fodder for those opposed to Home Rule and self-representation. It appears that the mayor is ahead in the polls. But you never know. There's a lot going on in terms of potential candidates. I would love to see another woman as mayor. My fear is with this cloud over him, Gray wins the primary and legal charges come after. I hope it doesn't happen."
As gentrification takes hold, the city's racial makeup changes and large numbers of non-blacks flock to the District, there are questions and fears among some black residents about the prospect of a white mayor. Bositis said that could happen.
"With the looming indictment, (Council member David) Catania is running as an independent. If Democrats nominate Gray and he's indicted, it would set up quite a race," he said. "Catania has won several statewide races and he's someone people respect. Do Democrats want to give the nomination to someone who may lose? Catania has a very good reputation. It's something that will make a lot of people nervous."