Reforming Mandatory Minimum Sentences
New Guidelines Proposed for Drug Offenses
Stacy M. Brown | 3/19/2014, 3 p.m. | Updated on 3/21/2014, 2:05 p.m.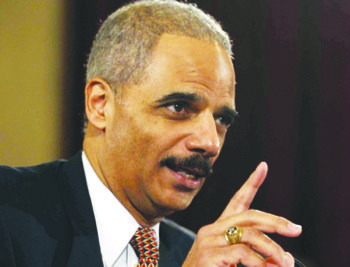 EDITOR'S NOTE: An earlier version of this story misquoted Judge Patti B. Saris, the chair of the sentencing commission.
President Barack Obama and his staff have joined others in an effort to reduce mandatory minimum sentences for minor drug offenses.
The president pardoned eight individuals in December who had served a number of years for minor drug trafficking. Now, Attorney General Eric Holder has announced that he's in favor of a plan to reduce sentences for certain offenses.
If successful, the plan could reduce the federal prison population by more than 6,500 inmates in five years, Holder said.
"The change would make the federal criminal justice system both more effective and more efficient when battling crime and the conditions and behaviors that breed it," said Holder, 63.
Currently, an individual convicted of possessing or distributing 280 grams of crack cocaine or one kilogram of heroin automatically receives a mandatory minimum sentence of 10 years in federal prison.
For anyone convicted of a drug offense involving 500 grams of powder cocaine or five grams of methamphetamine, the mandatory minimum sentence is five years.
"The over-reliance on incarceration is not just financially unsustainable, it comes with human and moral costs that are impossible to calculate," Holder said.
The federal prison system currently houses 216,000 prisoners and half of those are drug offenders. Further, Holder said with only five percent of the world's population, the United States has nearly 25 percent of the world's prisoners.
Officials at the American Civil Liberties Union in Northwest said many individuals are in prison for nonviolent offenses like stealing a $159 jacket or for serving as a middleman in the sale of $10 worth of marijuana.
An estimated 65 percent of U.S. inmates are black and many struggle with mental illness, drug dependency or financial desperation when they commit their crimes.
Most will never come home to their parents and children and taxpayers continue to spend billions to keep them behind bars.
Statistics compiled by Families Against Mandatory Minimums (FAMM), a Northwest-based organization that's advocating smarter sentencing guidelines, show that spending on corrections has risen more than 300 percent over the past two decades and taxpayers have spent nearly $60 billion on prisons and jails in 2012 alone, the latest stats available.
Per individual inmate, taxpayers are on the hook for at least $31,000 and as much as $62,000 per year, FAMM officials said.
"Like many in Congress and in the executive and judicial branches, the U.S. Sentencing Commission is concerned about the growing crisis in federal prison populations and budgets, and believe it is appropriate at this time to carefully consider the sentences for drug traffickers, who make up about half of the federal prison population," said Judge Patti B. Saris, the chair of the sentencing commission.
"The real solution rests with Congress, and we continue to support efforts there to reduce mandatory minimum penalties, consistent with our recent report finding that mandatory minimum penalties are often too severe and sweep too broadly in the drug context, often capturing low-level players," said Saris, 62.