Reforming Mandatory Minimum Sentences
New Guidelines Proposed for Drug Offenses
Stacy M. Brown | 3/19/2014, 3 p.m. | Updated on 3/21/2014, 2:05 p.m.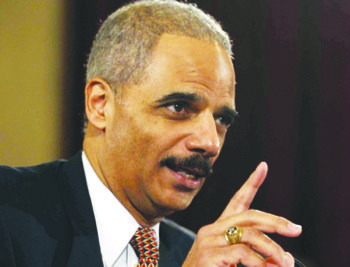 By now, many know the story of the Garrison twins.
Lawrence and Lamont, two Washington, D.C., brothers were solid citizens and devoted members of their church.
Together, they were about to graduate from Howard University in 1998 and the ever-so-close twins had plans of going to law school and one day opening up their own firm.
Without warning, they received the shock of their young lives when they answered a knock at their front door and, within seconds, the United States Marshals were arresting them, leading them away from their home in handcuffs.
A confessed drug dealer fingered the brothers in a conspiracy that involved the sale of 10 kilos of cocaine and 500 grams of crack.
Despite no prior criminal record and absent evidence proving they were involved in drug dealing, Lawrence Garrison received a 15 ½ year prison sentence and Lamont Garrison was hit with 19 ½ years.
"The sentences are way, way out of bounds," said Lawrence Garrison, released in 2009.
Released just two years ago, Lamont Garrison said that he would like to see judges get more discretion because even they are powerless when it comes to mandatory minimums.
"There are so many more people arriving in prison every day and staying in there," Lamont Garrison said in a previously published interview. "The government is downright devilish when it comes to sentencing people."