Sting Headlines Annual Benefit Concert in D.C.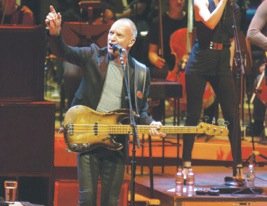 A music icon recently brought thousands of students, parents, alumni, and pop music lovers to their feet during a benefit concert.
Award-winning singer and songwriter Sting headlined the Performance Series of Legends, an annual concert that features up-and-coming singers, songwriters, and instrumentalists from the Duke Ellington School of the Arts in Northwest and raises funds to support its dual arts and academic curriculum.
The March 12 event at the Music Center at Strathmore in Bethesda, Md. raised $1.2 million in contributions from corporate and private donors that will provide instruments for students and ensure the continuation of Ellington's programs.
"We wanted to bring in a superstar as we celebrate our 40th anniversary," said Rory Pullens, Ellington's head of school and CEO. "Sting was a music teacher [at one point] so he has an affinity for education," said Pullens who's led the school since 2007.
Don "Cerphe" Colwell of Internet radio station Eco Planet Radio served as master of ceremonies.  After remarks from Pullens and Ellington's co-founder Peggy Cooper Cafritz, an ensemble of more than 40 student instrumentalists, singers, and dancers opened the show with a rendition of The Police's 1981 hit, "Demolition Man."
Sting then walked onto the stage and performed his 1987 song, "Englishman in New York" with the students. He later brought legendary singer and songwriter Paul Simon to the stage. The two artists, currently on tour together, kept the audience of 1,900 on its feet, singing Sting's "Brand New Day" and Simon's "The Boxer."
Kenny Headley, who attended the concert with a friend, clapped his hands and nodded his head throughout much of the evening.
"I like Sting's music [going back as far as] when he was with The Police," said Headley, 45, an accountant from Hyattsville, Md. "There is so much history in here tonight. Without the arts, you lose history. The young people need this. It informs them as much as any other subject."
Ellington opened its doors in 1974 in the building once known as Western High School in Northwest. It later became an independently operated public school, forming partnerships with D.C. Public Schools, The George Washington University in Northwest, and The John F. Kennedy Center for the Performing Arts in Northwest. Today, students at Ellington receive traditional academic instruction in tandem with dance, literary media, museum studies, music, theater, and technical design.
Since its first installment in 2006, the Performance Series of Legends has raised more than $4 million in contributions. The Ellington Fund, the charitable arm of the school that started in 1979, launched he annual program as a means of engaging the alumni community and raising awareness about Duke Ellington's offerings. Dave Chappelle, comedian and Ellington alumnus, headlined the first event at The John F. Kennedy Center for the Performing Arts. Since then, special guests have included mezzo-soprano Denyce Graves, Stevie Wonder, Earth Wind & Fire, Smokey Robinson, and Patti LaBelle.
"This is a school that I think has done wonderful things," said Cafritz, At-Large member of the Ellington Fund Board of Directors. Cafritz was instrumental in establishing the annual fundraiser.