Sting Headlines Annual Benefit Concert in D.C.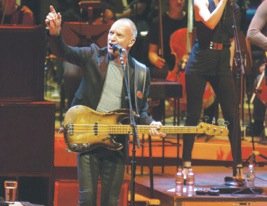 "We have the highest graduation rate. We thank the titans of industry and everyone else for their contributions. When we ask for money, please know that it will come to use."

Dawn Fong, an Ellington alumna, said that taking part in the festivities each year allows her to enjoy quality music and stay connected with friends, teachers, and administrators.
"It's important that the Duke Ellington School of the Arts receives community support so I come out whenever possible," said Fong, 45, a 1986 graduate. "I don't think I would be the person that I am today if it [weren't] for my time at that school," said Fong who lives in Northwest.
Lisa Reid counted among a group of six parents who raised money through the Soaring Beyond the Horizon campaign, a collaborative effort with Southwest Airlines that provided $100 vouchers for those who contributed $50. She credited Duke Ellington with aiding in her daughter's creative development.
"My daughter instantly loved Ellington as soon as she walked through its doors," said Reid, 53. "Getting your child to love school is half the battle. The arts get her in touch with her inner self. I think that it feeds her soul. I'm thankful that she's had the opportunity to be in this integrated arts program," said Reid, a Northwest resident.