Understanding the Relationship Between Diabetes and Kidney Ailments
3/19/2014, 2 p.m.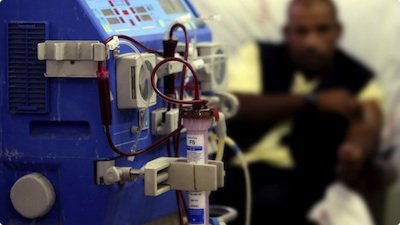 According to the National Kidney Foundation, African-Americans make up 29 percent of all patients treated for kidney failure in the U.S., but only about 14 percent of the overall U.S. population. We also develop kidney failure at an earlier age. The mean age for African-Americans at the start of treatment for kidney failure is 56 years, compared with 66 in white Americans. In terms of renal failure, African-Americans suffer from end stage renal disease (ESRD) disproportionately — 998 per million Americans, compared to 271 in whites.
Our two kidneys are incredibly important to our overall health.
Their main job is to remove waste from our body through our urine, but they also help balance the body's fluids, releases hormones to regulate our blood pressure, produce vitamin D and control the production of red blood cells.
When someone has chronic kidney disease it means kidneys are damaged and cannot do their job properly. Over time, if the disease worsens, wastes can build up in your blood and make you sick. For some, dialysis — a procedure for people with ESRD — does the kidneys' work for you and helps manage one's condition. In other cases, a kidney transplant is best.
So what increases your risk of developing kidney disease?
The National Kidney Disease Education Program cites the following:
Diabetes: 44 percent of people starting dialysis have kidney failure because of their diabetes. Both types of diabetes — 1 and 2 — can damage your kidneys over the years.
High blood pressure: This health ailment is the second leading cause of kidney disease. Like diabetes, uncontrolled high blood pressure can damage your kidneys. That's why it's important if you have been diagnosed with high blood pressure to measure your blood pressure every day so you know what your levels are.
Heart disease: There is a connection between kidney disease and cardiovascular (heart or blood vessel) disease. People with heart disease are at higher risk for kidney disease and people with kidney disease are at higher risk for heart disease.
Family history of kidney failure: Your risk of developing this disease increases if you have family members who suffer from kidney issues.
Given that we suffer from high rates of diabetes, high blood pressure and heart disease, it's not surprising kidney disease is a serious issue in our community. Past research has found that genetics may also play a factor in why African-Americans disproportionately suffer from kidney disease.
Experts stress that early diagnosis is key. Talk to your health care practitioner or doctor about whether or not you need to get tested.
To learn more about kidney disease, treatment and prevention, go here.
The shocking revelation on Wednesday that multi-talented entertainer Nick Cannon, 31, had suffered from mild kidney failure while vacationing with family in Aspen, Colo., brought new attention the risks associated with kidney disease. The disease affects 26 million American adults, according to the National Kidney Foundation. More troubling, African-Americans are at greater risk for kidney failure and, according to researchers at Johns Hopkins University School of Medicine in Baltimore, younger Blacks are more likely to die while receiving dialysis as treatment than white patients.