Cherry Blossom Festival Celebrates Spring's Arrival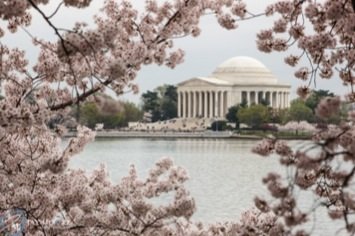 During a ceremony held on March 27, 1912, U.S. First Lady Helen Herron Taft and Viscountess Chinda, the wife of the Japanese ambassador, planted the first two trees from Japan on the north bank of the Tidal Basin in West Potomac Park.
Since Taft's involvement, the nation's first ladies have been proponents of the Cherry Blossom Festival, officials said.
In 1965, Lady Bird Johnson accepted 3,800 Yoshino trees from the government of Japan and held a tree planting reenactment and all first ladies in recent years have served as honorary chair, many participating as well.
In 1999, First Lady Hillary Clinton took part in a tree planting ceremony. In 2001, First Lady Laura Bush greeted guests with remarks at the Opening Ceremony and First Lady Michelle Obama was involved and planted a cherry tree at West Potomac Park in 2012, the year the festival expanded to five weeks.
"This year marks the 102nd anniversary of the gift of the cherry blossom trees, which symbolize the enduring friendship between Japan and the United States," Otaka said. "I am happy to see that the cherry blossom trees have become a symbol of Washington, D.C., and are loved by the people here."
The festival has proven a boon to the local economy as officials said it brings in more than $126 million in direct and indirect revenue to the District.
Reportedly, the festival's 55 official hotels see occupancy growth each year during the festival which showcases the approximately 4,000 cherry trees that line the Tidal Basin in West Potomac Park, East Potomac Park, and the grounds of the Washington Monument.
"The festival provides a unique experience that highlights the best of our city," said Events DC President Gregory A. O'Dell.
"It directly impacts the local economy through increased visitor spending and the high demand for hotel rooms, restaurants, and attractions. We are proud to partner with the festival and support efforts throughout Washington, D.C., that raise the profile of our nation's capital and encourage return year-round visitors."