D.C. Muslims Pick Gray for Re-Election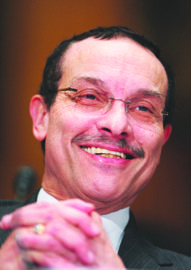 The DC Muslim Caucus announced Thursday that their choice for mayor in the April 1 primary is incumbent Vincent Gray.
Though Gray (D) got the endorsement, the caucus lauded challenger and D.C. entrepreneur Andy Shallal for running a quality campaign.
"Andy's campaign is impressive and demonstrates that a Muslim has a good chance to win even a citywide election in the District of Columbia," said Amir Walker, the caucus chair.
Gray ultimately received the nod because of his support for nonprofits, businesses and residents of the District's Muslim and non-Muslim communities alike, Walker said.
Gray is currently embroiled in a growing scandal stemming from his 2010 campaign, but Walker said the mayor's woes are outweighed by his accomplishments while in office.
Additionally, Gray is seen as being friendly to the Muslim community, Walker said.
"It is great when the mayor attends our events, hosts Ramadan feasts at his office and even calls on us to offer prayers," he said. "Now we hope to engage the mayor to create more opportunities for Muslims in D.C. to get our fair share of District grants, contracts and government jobs."
According to Islamic tradition and practice, Muslims participating in democratic elections are obligated to vote as a bloc based upon a consensus of the Muslim community.
The caucus also endorsed the re-election bids of D.C. Council members Kenyan McDuffie (D-Ward 5), the Council's Chairman Pro Tem, and Anita Bonds (D-At Large), as well as Council hopefuls Brianne Nadeau in Ward 1 and Darrel Thompson in Ward 6.