Stateswomen Honored by News Wire Service
James Wright | 3/20/2014, 5:58 p.m. | Updated on 3/26/2014, 3 p.m.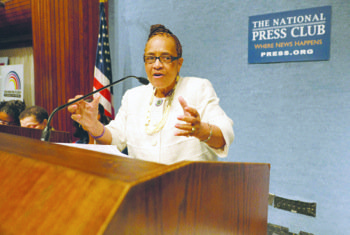 A group of African-American female leaders involved in the struggle for civil and human rights insist that blacks must continue to be vigilant in the areas of voting rights and strive to improve the lives of black males.
That message took root in the minds of the hundreds who attended a recent luncheon, "Stateswomen for Justice: How to Move from Chaos to Community: Our Response to My Brother's Keeper" sponsored by Trice Edney Communications Inc. and its companion wire service.
The event on March 20 at the National Press Club in Northwest featured Barbara Arnwine, president and executive director of the Lawyers' Committee for Civil Rights Under Law; E. Faye Williams, national chair of the National Congress of Black Women; the Rev. Barbara Reynolds, a syndicated columnist; Julianne Malveaux, president emeritus of Bennett College for Women in Greensboro, N.C., and Melanie Campbell, president and chief executive officer of the National Coalition on Black Civic Participation. The Rev. Omarosa Manigault served as moderator.
"Dr. Martin Luther King Jr. wrote a book in 1967 'Where Do We Go From Here: Community or Chaos'", journalist Hazel Trice Edney said, "and we have to decide what will we do as a people."
Edney is a former editor-in-chief with the National Newspaper Publishers Association (NNPA) and blackpressusa.com and a former interim executive director of the NNPA Foundation. She serves as an adjunct professor of journalism at Howard University and has received national attention for her views and commentary on the viability of the black press.
Edney said that she chose the brother's keeper theme for the luncheon because of the attention Obama received for launching the initiative. The president has asked private and corporate foundations and federal agencies to team up to look into solving the problems of young black males, an unprecedented request.
The honorees agreed that President Obama's recently announced proposal to help black males was well intentioned but some wanted more.
"Our brother's keeper needs to be our people's keeper," Malveaux said. "Black women have always had to pick up the slack. As Dr. Dorothy Height said once 'we [black women] don't do what we want to, we do what we have to.'"
However, Williams commended the president.
"President Obama is not a magic man," Williams said. "It is we that must do what is needed to help the black man. Just the idea that we are going to help our brothers is very good."
It's interesting to note that Malveaux and Williams have disagreed on issues dealing with black males in the past. Malveaux criticized the Oct. 16, 1995 Million Man March – that consisted primarily of black men – and took place on the National Mall as being ineffective and somewhat sexist while Williams helped to organize the march.
All of the honorees, however, agreed that passing legislation to restore gutted portions of the Voting Rights Act of 1965 remains critical. Voting in record numbers in the general election will help move that legislation along, the panelists said.
"In November 2014, we [as blacks] must storm the polls,"Arnwine said. "We must claim the Congress and we must claim the Senate. We have the power to elect presidents and to determine what state and local governments look like."
Arnwine said that she wants to eliminate strategies and tactics designed to discourage voting by people of color, young adults and the elderly. She noted that 51 million eligible Americans aren't registered to vote and measures must be taken to remedy the situation.
Campbell agreed, saying Obama needs a U.S. Congress that will work with him.
"It is time to get serious about our movement," Campbell said. "The Republicans only need six seats to make Obama a lame duck. We need a turnout this year like it is a presidential election year."