Geri Allen to Join Afro Blue, HU Jazztet for Alumni Jazz Show
3/21/2014, 4:10 p.m.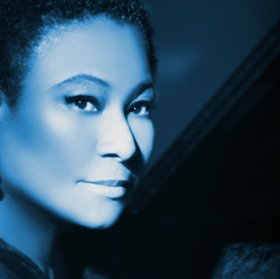 As part of its centennial celebration, Howard University's music department will host an alumni jazz concert on April 7 at the university's Cramton Auditorium, showcasing the talents of past and present members of Afro Blue, the Howard University Jazz Ensemble (HU Jazztet) and renowned pianist Geri Allen.
The concert, which will begin at 7 p.m., serves as a release for Afro Blue's fourth CD, "Jubilee," as well as the latest CD for the HU Jazztet, "Paintings." CDs will be available for purchase at the concert.
Allen is hailed by the New York Times as "a jazz pianist who dares to follow an unmarked road." She has been honored by the Los Angeles Times for her "extensive music education and a devotion to swing roots of jazz." Currently the director of jazz studies at Pittsburgh State University, Allen is sharing her knowledge and experience with a new generation of artists.
Allen will be joined during the performance by Howard's award-winning vocal jazz ensemble Traces of Blue, which will sing selections from their 2013 collaborative concert with Allen at the historic Apollo Theatre in Harlem, "Celebrating the Great Women of the Apollo."
The vocal ensemble appeared as Afro Blue on the 3rd season of NBC's reality show "The Sing-Off," an a cappella singing competition. They will perform selected songs as well as new material that will appear on their upcoming album. The second half of the program will feature some of D.C.'s best jazz artists in an ensemble consisting of HU Jazztet alumni, directed by Fred Irby.
Tickets are $20 for general admission, $10 for students and seniors with valid ID and $5 for children 12 and under. Tickets can be purchased from the Cramton auditorium box office, via Ticketmaster at www.ticketmaster.com or (202) 397-SEAT.