GWUL Gala Showcases Civic Leadership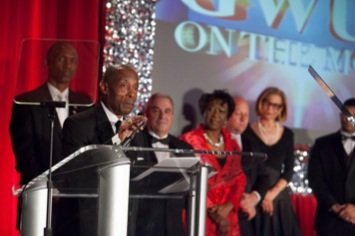 In a departure from the rules of appropriate attire, hundreds of guests at the Greater Washington Urban League's (GWUL) 42nd annual Whitney M. Young Jr. Memorial Gala on Wednesday took the liberty to mix the ordinary with extravagant.
Attired mostly in glittering black formal wear and all sorts of colorful designer sneakers, a veritable who's who of the D.C. region — including Mayor Vincent C. Gray and Prince George's County Executive Rushern Baker III — filled a room at the Grand Hyatt Washington Hotel, networking and catching up with each other.
The theme for this year's gathering was "GWUL on the Move (in Black Tie and Sneakers)." The dinner program, hosted by NBC4 news anchor Jim Vance, celebrated the League's role in increasing the economic and political empowerment of African-Americans and other minorities.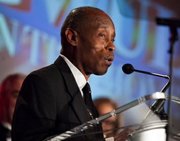 "I think that as long as people need jobs, as long as people need housing, as long as people need education, there will always be an important place in D.C. for the Urban League," said Gray, who announced District will provide $287 million to make housing affordable for first-time home buyers.
The gala, which included a reception and silent auction, paid tribute to the League's "forward-moving" leadership team and featured performances by the Working Divas fitness team.
Former GWUL president Maudine Cooper, who retired in November after more than two decades of service, was praised for her leadership throughout the event, which served for many in attendance as their formal introduction of her successor, George Lambert, who assumed the position in January.
"It's not easy to fill Maudine Cooper's shoes," Baker said as he congratulated Lambert and paid homage to Cooper.
In his brief remarks, Baker lauded GWUL's nearly 80 years of public service to the District and the neighboring Maryland counties of Prince George's and Montgomery.
Quoting the late Whitney Young, National Urban League executive and civil rights activist, Baker told the crowd, "It's better to have an opportunity and be prepared than to have one and not be prepared."
In addition to announcing scholarships to 10 District-area students, the event also recognized the civic contributions of Olympic championship swimmer Katie Ledecky, men's golf coach Catana Sparks and Joel Ward. The trio was respectively honored with the Youth Inspiration, Trailblazer and Pioneer awards.
Gregory McCarthy, Washington Nationals vice president for external affairs, was among several guests who represented key area businesses and corporations.
"We attended the celebration in the role of cheerleader for the GWUL," McCarthy said. "While it's obviously important for the Nationals to do well on the field, it's also our role to give back to the community — and in doing so, to pair up with strong partners like the Urban League."
McCarthy said one of the first steps this year in that vein will come May 27 with a "Night at the Ballpark."
"We'll showcase the achievements of African-Americans in baseball," he said. "And we want to have a lot of children and youth come out for that."