CBC Demands Change to 'Stand Your Ground' Laws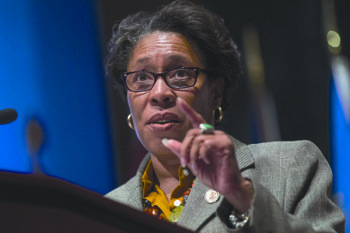 The Congressional Black Caucus is the latest organization to formally protest "stand your ground" laws in place throughout the nation, arguing that they are racially discriminatory and should be repealed in the states that have them.
"It has been made clear that 'stand your ground' laws across this nation must be changed," Rep. Marcia Fudge Fudge (D-Ohio), the caucus chair, said Monday. "While the 'castle doctrine' was originally intended to protect citizens from intruders in their homes, the expansion of this law into the public sphere through 'stand your ground' has resulted in inequitable application and has cost innocent individuals their lives. Over the past two years, the ways in which 'stand your ground' laws are flawed in principle and in practice have been brought to the national stage."
Fudge's comments came as Caucus members Corrine Brown (D-Fla.) and Bobby Scott (D-Va.) testified Monday at a hearing on the law held by the Florida Senate Criminal Justice Committee.
Several high-profile cases in the state brought national attention to such laws in recent years, most notably the trial of George Zimmerman for the fatal shooting of unarmed black teenager Trayvon Martin in February 2012. Zimmerman was acquitted of murder after claiming self-defense.
In November of that year, another unarmed black teen, Jordan Davis, was shot and killed by Michael Dunn, a white man, at a Florida gas station in November 2012 amid a dispute over loud music coming from Jordan's vehicle.
Though neither Zimmerman nor Dunn invoked the "stand your ground" law as their defense, the outcry against the law only grew louder after Zimmerman's acquittal and a jury's failure to convict Dunn of murdering Davis.
Inversely, opponents of the law have railed against the seemingly discriminatory nature in which it is applied. Marissa Alexander, a black woman in Florida, was sentenced to 20 years in prison in 2011 for firing a warning shot at a wall to ward off her husband whom she claims was threatening her. Though she was eventually granted a new trial, she will not be allowed to use the "stand your ground" law as a defense.
Fudge said the laws "have been disproportionately used to defend deadly force against the innocent, while the innocent have been denied using it as their defense."
"Florida must take action to change its 'stand your ground' law and the 23 states that have passed similar laws must do the same," she said. "Death is not justified because someone is assumed to be guilty. This nation cannot lose another innocent life to laws meant to protect."