Black Memorabilia and Collectible Show Aims to Educate
Dr. Lindsey B. Johnson, Special to The Informer | 3/24/2014, 12:30 p.m.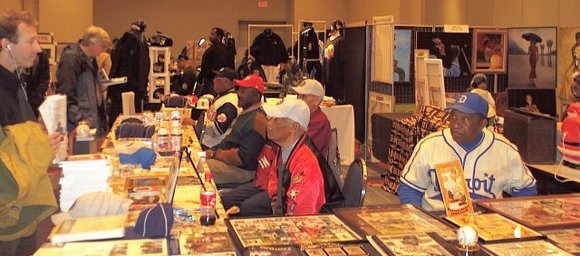 The objective of the 30th annual National Black Memorabilia and Collectible Show on April 26-27 in Gaithersburg, Md., is to educate the public on African-American history and culture and to provide an opportunity to collect black memorabilia.
Items made by African-Americans, in the image of African-Americans or about African-Americans are considered black memorabilia, whether these items are positive or negative. Many of the items we consider as black memorabilia reflect the way African-Americans were viewed and treated in this country. Items from the slavery, Reconstruction, Jim Crow and Civil Rights eras to present tell a story of great progress of our ancestors despite the obstacles they faced.
Slave shackles and documents reveal a story of man's inhumanity to man. Collecting memorabilia from that period reminds us of a time that we do not want to forget so that we will do everything in our power to keep it from ever happening again. In the "Lest We Forget Black Holocaust Museum of Slavery" exhibit, there will be authentic slavery artifacts on display like those seen in the outstanding Academy Award-winning Best Picture "12 Years a Slave." Such items include dolls like the ones made by Patsey, slave tags like the one seen around the neck of Solomon Northup, arm, leg and face shackles like those seen in the movie, slave sale and ownership documents, whips like the ones used on Solomon and Patsey and other authentic artifacts. Also, there will be a lecture on the subject of slavery.
Items from Reconstruction remind us of gains that were taken from us during the Jim Crow era. Civil Rights memorabilia reminds us of the struggles and sacrifices that were made to achieve equality and fair treatment as human beings. It is extremely important that we know our history so that we can appreciate the gains made and not take our current state for granted.
Many young African-Americans do not know our history and as a consequence do not see the importance of participating in the political process to maintain our hard fought for gains. Therefore, we in the African-American community must make every effort to teach our young people about our history. Having them attend a Black Memorabilia & Collectible Show is one way to teach about and expose them to our history and culture. Black memorabilia also documents our contributions to the building of America, thus making it the great country that it is.
At the show, there will be many vendors from across the United States with black memorabilia for sale. Items for sale include slavery artifacts, historical documents, fine art, black dolls, books, autographs, stamps, coins, toys, advertisements, paintings, prints, jewelry, political, civil rights, sports and entertainment memorabilia and much more. Just browsing the items for sale is an education on the African-American experience in itself. Also, at this event there will be educational exhibits that give an in-depth look at important people and events in our history. These educational exhibits include slavery artifacts, Jim Crow, Buffalo Soldiers, Marcus Garvey, Black Panther Party, Malcolm X, George Washington Carver, Madame C.J. Walker, Dorothy Dandridge and others. Attendees will also be able to meet Negro League baseball players and Tuskegee Airmen and obtain their autographs.
This event is an excellent opportunity for the whole family to be educated on African-American history and culture.
The show is at the Montgomery County Fairgrounds, 16 Chestnut Street, Gaithersburg, Md. Admission is $7 and students are admitted free. Show hours are 10 a.m. to 7 p.m. on Saturday, April 26, and 10 a.m. to 5 p.m. Sunday, April 27. For information call 301-649-1915 or go to www.johnsonshows.com.