Cherry Blossom Festival Features Music, Art and Tastings
Residents, Others Find Variety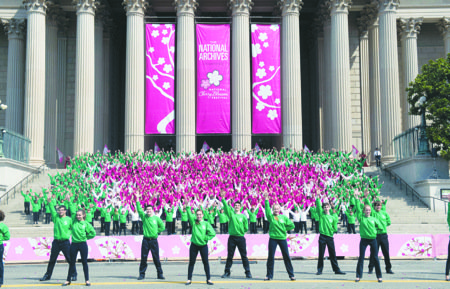 At least once a month Destiny Wright, Michelle Morris and Andrea Clark, don their best apparel, grab a bite to eat and head out for a night on the town.
The best friends, who each live and work in Northeast, usually cap off their girls night out at one of the many dance clubs located in Northwest. However, on Saturday, March 29, the ladies said their destination will be on another side of town, Southwest.
"We're enjoying the Cherry Blossom Festival, so we decided to take in some of what it has to offer on the club side of things," said Wright, 38, who will join her friends at the Blind Whino, a former church turned visual and performance arts venue, where musicians such as Congo Sanchez and Nappy Riddem will headline the festival's popular "Cherry Blast: Art & Music Dance Party."
"Our feeling is that we are D.C.-born and we love D.C. and this is a D.C. event, so we're supporting it," said Morris, 36. "We've heard Congo Sanchez before and he's great and so are Nappy Riddem," Morris said, adding that she and her friends are particularly looking forward to Nappy Riddem.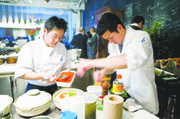 While Sanchez has carved out quite the niche for himself on the local music scene, the local reggae sensations, Nappy Riddem, have released a string of remixes and they've transformed themselves into a conscientious band who's become one of the District's biggest musical attractions.
"The 'Cherry Blast: Art & Music Dance Party' is one of our more popular events and we usually sell out," said Danielle Davis, the communication's manager for the Cherry Blossom Festival, which the Washington Informer serves as a partner.
The event, which begins at 7 p.m., is open to adults 21 years and older and tickets are $15.
Davis said the "Cherry Blast" also features an enormous collection of over 300 cherry blossom-inspired art pieces, all available for purchase.
The event will also include a special Washington Project for the Arts exhibit, which showcases work inspired by the annual festival.
"I love art and the fact that there are so many pieces to choose from makes the night all the more interesting," said Clark, 38. "So, my friends and I can dance, party and buy some art for inspiration," she said.
The "Cherry Blast" event became a staple of the National Cherry Blossom Festival in 2009 when dance performances, fashion shows and live music took place inside an empty Anacostia warehouse in Southeast.
"It's an eclectic multi-media event with DJ's, bands and others," Davis said.
In addition to music, dance and artwork, another festival staple will take place on Thursday, April 3 at the Carnegie Library in Northwest.
Officials said this year's "Grand Sake Tasting" event will feature master brewers from Japan and their products, including sake, shochu, and beer.
Sake, an alcoholic beverage of Japanese origin that's made from fermented rice, has often been referred to as rice wine, but festival officials said the brewing process is similar to beer in which starch gets converted to sugar for the fermentation process.