Cherry Blossom Festival Features Music, Art and Tastings
Residents, Others Find Variety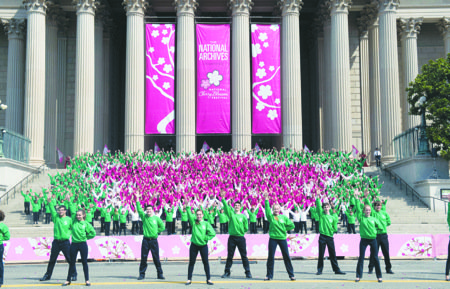 Shochu counts as a traditional spirit that's produced mainly in Southern Japan. It's typically distilled from barley, sweet potatoes, buckwheat, or rice, and can contain other ingredients such as sesame seeds or carrots.
"These are things that you'd never know, or at least I'd never know, if I didn't go to the National Cherry Blossom Festival," said Delores Venable of Southeast.
"Some people think it's too expensive, but considering everything that you get out of it and the good Japanese beer, I'm all for it," she said of the $100 admission fee, which is open to adults only.
Top Japanese restaurants throughout the District also have agreed to complement the beverages at the grand sake tasting event with samples of their cuisine while traditional Japanese performers are scheduled to provide entertainment.
Davis said tasters who find something they like will also have the opportunity to bid on bottles of sake, beer and shochu, in an auction that will benefit the festival, which began in 1912 when Mayor Yukio Ozaki of Tokyo gifted 3,000 cherry trees to Washington, D.C. officials.
Davis said while all of the events are exciting, the parade continues to stand out as a favorite.
The annual parade draws about 100,000 spectators each year and includes decorative floats, helium balloons, marching bands, a youth tap team, a choir and other attractions.
The parade steps off at 10 a.m. on Saturday, April 12 along Constitution Avenue in Northwest beginning at 7th Street and ending at 17th Street.
Passing such landmarks as the National Archives, Department of Justice building, Smithsonian Museums, the Washington Monument and the White House, the parade will feature singers Aaron Carter, Sheena Easton and Regina Bell and Miss America 2014 Nina Davuluri.
"The parade is always a high point," Davis said. "There's a great lineup with Regina Bell, Sheena Easton and 'American Idol' winner Candice Glover," Davis said.
The parade will also be televised on a delayed telecast by WUSA, Channel 9 at noon. CBS This Morning anchor Norah O'Donnell, WUSA anchors Andrea Roane and Mike Hydeck will serve as hosts.
For the first time, the parade will feature five winners from the festival's local talent competition, including a cappella groups, "The GW Vibes," and "Reverb," pop artist and Mount Rainier, Md. resident Ashley Brown, soloist Alan Gendreau, and 8-year-old youth choir performer, Kelvin Dukes.
"I guess it's everybody's hope that, after all of this snow and cold, the weather will hold up so that even those who will watch on television will see the best of the District," Venable said.
The National Cherry Blossom Festival, which includes more than three weeks of diverse events and creative programming that promotes traditional and contemporary arts and culture, and community spirit, will also feature a Southwest Waterfront Fireworks Festival on Saturday, April 5, and a Sakura Matsuri- Japanese Street Festival produced by the Japan-America Society of Washington, D.C., on Saturday, April 12. The 2014 festival commemorates the 102nd anniversary of the gift of the cherry blossom trees and the long-lasting friendship between the United States and Japan. More than 40 participating organizations are offering programs throughout the festival, including rare and renowned arts and culture at various institutions around the District. For a listing of all events and for additional information about the festival, dates, times, admission and other details, visit www.nationalcherryblossomfestival.org.