D.C. Political Roundup: Gray's Management Skills Impress Barry
3/26/2014, 3 p.m.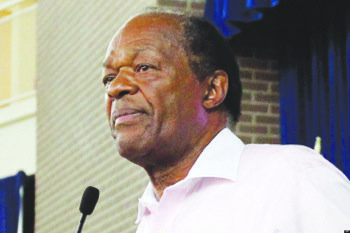 D.C. Council member Marion Barry (D-Ward 8), who served four terms as mayor of the District, said that he endorsed D.C. Mayor Vincent Gray (D) for re-election on March 19 because of Gray's management skills.
Barry said that the District's next mayor – whoever it is – will need to move swiftly to address the city's challenges.
"There is no textbook on how to be a mayor," said Barry, 78. "There is no time for on-the-job training."
Gray is facing seven opponents in the Tuesday, April 1 mayoral primary. The winner of the primary will face D.C. Council member David Catania (I-At Large) and others in the November general election.
Barry served as mayor of the District from 1979-1991 and 1995-1999. He said that the next mayor must know how to management the city's money properly.
"The District government is an $11 billion [entity] and we don't need an amateur trying to manage this money," he said.
Barry said that since Gray has been mayor, unemployment in communities east of the Anacostia River has dropped from 26 percent to 16 percent. He said that the District's bond rating on Wall Street has improved and that Gray will work to make it stronger.
Barry also said that Gray's opponents have no idea of how to run a major city.
"I don't want to single anybody out but I picked Gray because of his management experience," he said. "The people running against Vince Gray have never managed more than 10 people. You need someone who can do the job because when you are sick, you go to a surgeon, not a plumber."
Gray graciously accepted Barry's endorsement.
"I initially did not aspire to this office," said Gray, 71. "I was happy being the chairman of the D.C. Council but I talked to Marion Barry about running and he encouraged me to do so. What I have done [since being mayor] is not for me, but for other people."
Barry said that no matter who wins the April 1 primary, he will support that candidate in November.
"I will rally around the Democratic nominee," he said.


Ross Hopes to be Next District Senator
Peter Ross is a wealthy man who wants to give back to the District. His way of giving back will be through public service, not writing a check to a charity.
Ross wants District Democrats to help him serve by making him the party's nominee for U.S. shadow senator on Tuesday, April 1. He's facing an 18-year incumbent, Paul Strauss, and he is talking to political groups and knocking on doors all over the city in the hopes of persuading District voters that's he's the best person for the job.
"I don't think Strauss has done very much," said Ross, 67. "I pledge to be a full-time senator and I realize that it is not a paid position but I will work at it. As a senator, I will pledge to be bipartisan and talk to Democrats and Republicans about D.C. statehood."
One of his goals is to see that statehood and other like-minded organizations work together instead of competing against each other.
"Too many of these organizations don't coordinate," he said. "That is the problem with the statehood movement. They are lashing out at each other and that is not the way it should be."
Ross cites the 2012 Democratic Party national convention in Charlotte as an example of unnecessary competition. He said three organizations held events at the convention and they pushed their own agendas instead of trying to put together a united front on behalf of statehood.
Ross proudly counts political leaders such as Ward 8 Democrats President Natalie Williams, former Ward 8 Democrats Interim President Markus Batchelor, outgoing D.C. State Board of Education member Trayon White and political activists Jacque Patterson, the Rev. Joyce Scott and Philip Pannell as supporters.
On March 15, Ross almost received the endorsement of the Ward 8 Democrats, with 59 percent of the vote while Strauss got only 29 percent.
A candidate needs 60 percent of the vote to get an endorsement from the organization.
"Strauss had the support of [D.C. Council member] Marion Barry and I still beat him," he said gleefully.