Deadline Nears for Health Care Enrollment
Signup Drive Locations Include Laundromats, Lounges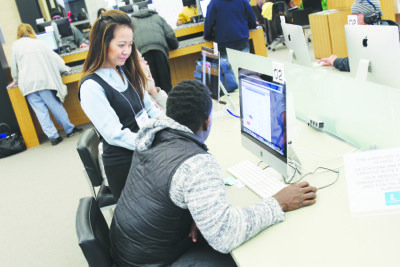 With just days remaining before the deadline to sign up for insurance under President Barack Obama's signature health care law, recruiters in the District are leaving no stone unturned.
Workers and volunteers are targeting young people, particularly those between the ages of 18 and 34, by going to laundromats, college campuses and even bars in an effort to enroll as many individuals as possible before the Monday, March 31, cut-off date.
"Our philosophy is to take it to the streets, take it to places of work, where people eat, drink, and pray," said Dr. Linda Wharton-Boyd, Ph.D., the director of External Affairs and Stakeholder Engagement at the DC Health Benefit Exchange Authority in Northwest.
"The young people, the young invincibles, we are taking it to them at the nightclubs, at the sports bars and where they go after they leave the clubs," Wharton-Boyd said. "We feel pretty good about our outreach methods."
The president and officials in his administration said they're seeking as many as seven million individuals to sign up for insurance under the Affordable Care Act, or ACA.
Obama has recruited basketball greats Magic Johnson, Alonzo Mourning and others to appear in television commercials that urge enrollment while first lady Michelle Obama has joined the mothers of music stars Jonah Hill, Adam Levine, and Alicia Keys in online videos attempting to encourage signup.
"I've enrolled," said Nick Rajpara, a small business owner who lives in Northwest.
"It's great if you have a small business and I have told all my friends and family about it," said Rajpara, 37, who presented a speech earlier this month during the Doctors for America 2014 Leadership Conference at the Westin Washington, D.C., City Center in Northwest.
Enroll America, a Northwest-based nonprofit that informs consumers about health insurance options and helps individuals to sign up for plans, has partnered with the National Medical Association to provide information to the African-American community.
The National Medical Association, which consists of 37,000 black doctors nationwide; has worked this month with numerous religious organizations in African-American neighborhoods in the District to help encourage enrollment into health insurance plans.
"The churches in the African-American community play a pivotal role in informing people about the Affordable Care Act and encouraging them to enroll for health coverage," said Dr. Michael LeNoir, president of the National Medical Association.
"Our partnership with the faith community will provide our physicians with the opportunity to help the uninsured understand the long-term ramifications of diseases such as diabetes, heart disease, and cancer," LeNoir said.
Reportedly, more than any other group, participation from younger individuals will be crucial to the success of the ACA because young people tend to be healthier.
It's estimated that those between the ages of 18 and 34 will need to make up about 40 percent of enrollment in the new health care program to help balance out the higher costs of insuring the elderly and those prone to illness.
About one-third of District residents fall into the 18- to 34-year-old demographic, according to the most recent Census data.