EDITORIAL: Mayor Gray is Our Choice
3/26/2014, 3 p.m.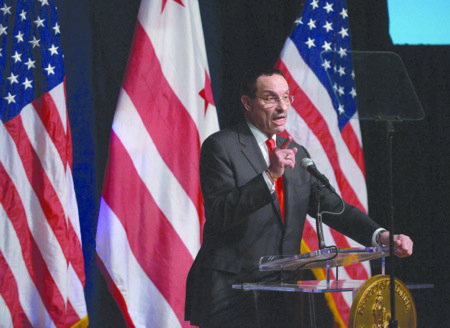 The District of Columbia is a markedly different city from the one Mayor Vincent Gray inherited in 2010.
The city is awash in cranes, construction and other signs of a place on the move. While building on the progress of his predecessors, Gray has ushered in a period of growth and development that is pushing Washington, D.C. to the forefront as one of the premier destination cities in the country. The city is a mecca for young people and young families, is now considered the No. 7 hippest city in America, and is fast becoming the technology hub on the East Coast.
The nation's capital is burgeoning with revitalized neighborhoods, an explosion of new apartments and condos, expanding retail space, bars, restaurants and a bustling nightlife along with long-awaited projects Mayor Gray has steered east of the Anacostia River, including Skyland Town Center, a new DOES headquarters on Minnesota Avenue and St. Elizabeths East.
The District proved to be a safe harbor from the storms created by the recession, twin spectres of the housing bubble and the economic downturn that still has the national economy in the doldrums. And while the presence of the federal government provided some cushion, Mayor Gray boldly defied Congress against a government shutdown in order to protect thousands of District workers.
In 2010-2011, the District's unemployment rate stood at about 11 percent. In February, according to the U.S. Department of Labor, the city's unemployment rate fell to 7.6 percent, the lowest unemployment rate enjoyed by the District in more than five years. Of note, the unemployment rate which once peaked at 26.9 percent in Ward 8 is now 16.2 percent; and in Ward 7, the rate is 14 percent.
Despite growing concerns and tremendous pushback from residents about the direction of school reform, the viability of core competencies and less-than-stellar graduation rates, our public schools continue to improve and new school buildings have been rebuilt, including Dunbar and Ballou. President Barack Obama and Education Secretary Arne Duncan have sung the District's plaudits, and Gray recently announced at his State of the District Address that he is allocating $116 million to D.C. schools to pay for quality early childhood education programs, bolster programs that target at-risk youth and develop projects designed to enhance the school experience.
Gray is being credited with building on education reforms resulting in D.C. public schools outperforming the rest of the country in the improvement of math and reading test scores. And his health care initiatives have included the completion of four new neighborhood medical homes in Wards 7 and 8, and plans to build a brand new full-service hospital at St. Elizabeths. And his proposed tax relief for seniors is welcomed across the city.
Gray is running for a second term, despite a cloud of uncertainty over alleged campaign irregularities during his 2010 mayoral election bid. Gray continues to proclaim his innocence and, frankly, we believe he is innocent until proven guilty and that the due process he is owed will not interfere with his ability to continue to provide great leadership. There are certainly more issues Gray, as mayor, still needs to address, including homelessness, affordable housing, and joblessness, particularly in Wards 7 and 8. The Washington Informer believes Mayor Gray has a plan, the experience and vision. He deserves a second term to continue his legacy of service he has unselfishly given to the residents of the District of Columbia.