Fundraiser Highlights Youth Homelessness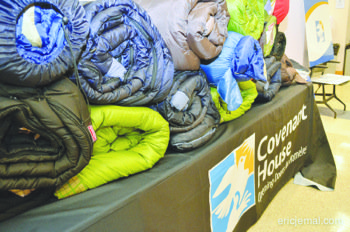 Hundreds of millennials recently slept under the stars and raised thousands of dollars in an effort to bring attention to youth homelessness in the District. 
The event, touted as the Young Professional Sleep Out attracted more than 100 people that work in various career fields. Volunteers known as sleepers listened to the stories of those who have experienced homelessness and later got some shut eye in the parking lot of Covenant House Washington (CHW) in Southeast. The gathering at the community center on March 21 counted among six sleep outs that took place throughout the United States and Canada.
"We want the community, country, and world to understand the plight of young people and ensure that they are not forgotten," said Madye Henson, 56, president and CEO of CHW since December 2013. "What makes this service opportunity unique is that it's hands on. Our young people gain something of value from those who came to serve," said Henson, a Northwest resident.
Guests at CHW listened as spoken word artists, singers, and instrumentalists performed during the Mellon Street Cafe, an artist showcase named after the location of the CHW Crisis Center, a 44-bed residence for homeless youth, also located in Southeast. Jonelle Britt, a resident of the crisis center since January, and Nia Bermudez, community liaison at CHW, performed Beyoncé's "Pretty Hurts."
Britt said CHW provided the stable environment she needed to pursue her education. The Southeast resident wants to attend college after she completes her CHW-sponsored GED program.
"The staff at the crisis center understands me," said Britt, 20. "I can go to anyone there for help. I want the people in the audience to know that if they ever hit that low point in their life, they should not give up. I want to live comfortably one day and I will go to college either this fall or next spring to make it happen."
Later in the evening, sleepers talked with youth from CHW and listened to stories of arguments with family members, financial troubles, and stints on the streets. Nia Benjamin, a management analyst in the federal government, attended the event with her friend. She said that she enjoyed hearing the residents' stories of resilience and triumph.
"Sometimes you need to hear these touching stories," said Benjamin, 26, who lives in Bowie, Md. "It helps to get this reality check. Everyone needs to give back in some form, especially African Americans. We don't give back very often. I would like to see a lot more action."
Hundreds of D.C.'s young people use CHW's year-round programs and services that include transitional living apartments, workforce development training, academic classes, and child care for the infants of young parents. The Young Professional Sleep Out, in its second year, followed a gathering of CHW board members, local business leaders and entrepreneurs last November during which they also slept in the parking lot of the community center to draw attention to a problem that's often not addressed. This year, the millennials collected more than $30,000 in donations, engaging in conversations about youth homelessness with their peers on social networks.
"We thought that this initiative would be a good fit for young professionals since it was action oriented," said Alexis Lindsay, 30, manager of special events and communications at CHW. "It was life changing. We had people who are already involved as well as those who are doing something philanthropic for the first time," said Lindsay, a Northwest resident.
Rande Atcherson, a proposal manager for a retirement planning company, passionately recited a poem about working hard and setting goals during the Mellon Street Café. He said that he looked forward to sleeping outdoors, calling it an opportunity to show his solidarity with the less fortunate.
"I really want to get involved in this movement and experience what others go through so that I can strengthen my message," said Atcherson, 33, a Capitol Heights, Md. resident. "Sometimes we focus too much on the present instead of envisioning our future. If we work toward making our dreams come to fruition instead, we will be in a much better position."