EDUCATION BRIEFS: Howard University Middle School Students, Faculty Honored
3/26/2014, 3 p.m.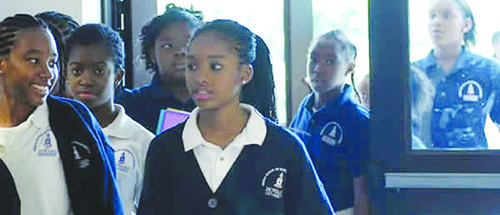 Mayor Vincent C. Gray reaffirmed his commitment to Science, Technology, Engineering and Math (STEM) education on Monday, March 24, when he recognized students and faculty at Howard University Middle School of Mathematics and Science Public Charter School in Northwest for outstanding academic achievement and overall contribution in the STEM disciplines.
During the ceremony, students and educators received "Striving for STEM Excellence" awards. The event kicked off with a cheer from the school's cheerleading squad and a host of distinguished visitors who included corporate and public school partners applauded the school's faculty and students for their outstanding efforts.
DCPS OKs Proposals for More Engaging Activities
All 111 District of Columbia Public Schools (DCPS) are approved for proposals to add or expand activities and programs that will help students enjoy their schools. This initiative, which will use money from the new "Proving What's Possible" for student satisfaction award, is a key component of Chancellor Kaya Henderson's budget priorities for the 2014-2015 school year.
"Our schools have plans for engaging, enriching and exciting ways to make school more fun for students," said Henderson. "I have been absolutely blown away by the creative ideas I've seen. Our principals want to invite in their communities, transform after-school [programs], show our students this city, the world and beyond. Next year is going to be a very fun time to be a student at DCPS."
VIRGINIA
Alexandra
Students Grasp Technology behind Olympics
Students from the George Washington Middle School Campus on Mt. Vernon Avenue recently learned about advances in technology that resulted in a faster winter Olympics suit for American speed skater Shani Davis.
The students also had the chance "to go for the gold" themselves by honing their research skills and learning about countries that participated in the Sochi games.
Their lessons took place with students meeting in small groups with an adult faculty member who engaged them in activities in support of initiatives that focus on the International Baccalaureate Middle Years Programme (IBMYP), Individual Career and Academic Plan and the Positive Behavior Intervention and Supports effort.
"The Olympics have helped our students understand and appreciate other countries around the world," said IBMYP coordinator Emmet Rosenfeld.
MARYLAND
Montgomery County
MCPS Graduates Lead the Way in AP Testing
A newly-released national report shows that while students at Montgomery County Public Schools have continued to maintain high rates of participation and performance on the Advanced Placement test, more than half of the Class of 2013 earned a college-ready score on at least one Advanced Placement (AP) test, far outperforming their peers across the state and the nation.
The county also saw growth in student participation and performance on International Baccalaureate (IB) exams.
"MCPS students continue to take challenging AP and IB courses and perform very well on the exams," said Superintendent Joshua Starr. "We want all of our students to graduate ready for college and the workplace and we will continue to offer them the opportunities and resources they need to be successful."