Howard U. to Host 'Jumpstart' Project for Preschoolers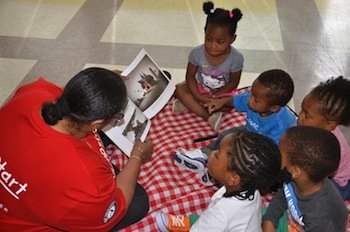 Howard University is teaming up with a national educational organization to host the 12th annual "Jumpstart for a Day," an event that seeks to help level the playing field for young children from underprivileged households.
The April 11 interactive learning fair will use curriculum-based group activities for about 350 children ages 3 to 5 who have been identified by their teachers as needing a boost in developing literacy, language and social skills.
Howard students will serve as mentors for the fair, which will be held from 9 a.m. to 12 p.m. at Burr Gymnasium on the university's campus. The school has been involved in the project since 2011.
Several businesses and organizations, including the Howard School of Dentistry and the D.C. Fire Department, will provide presentations centered on fire safety as well as personal hygiene and nutrition for young children.
Founded in 1993, Jumpstart's mission is to train college students and community volunteers to help disadvantaged pre-kindergarten students develop skills necessary for when they officially begin school.
A study conducted by the national nonprofit organization found that children in low-income neighborhoods start kindergarten 60 percent behind their peers from affluent communities. Also, for every 50 children who have trouble learning to read in kindergarten, 44 will still be having trouble by the time they enter the third grade.
According to Jumpstart officials, children who start kindergarten behind are more likely to stay behind for the rest of their lives, with the achievement gap only widening over time. Those students are more susceptible to dropping out of high school, unemployment and incarceration, the officials said.
"We envision the day when every child in American enters kindergarten prepared to succeed," Elizabeth Huber, interim executive director of Jumpstart DC, told a local news website in November. "Through our research-based, cost-effective program, we believe we can make that happen, too, as our proven curriculum helps children to develop the skill set they need to be prepared for years of success in academia."