Jack Evans: I'm Not Just 'Mr. Downtown'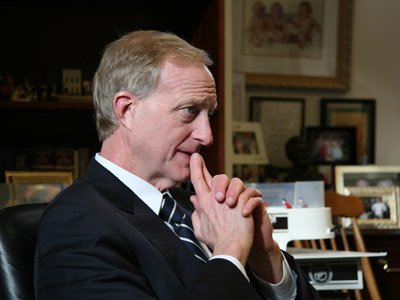 D.C. Council member Jack Evans (D-Ward 2) says he's running for mayor of the District because he is concerned about good schools and safe neighborhoods.
Evans, 60, is running to lead the District so that its residents can have great economic opportunities and can live, work and play in a world-class city. However, if you really want to get Evans upset, say to his face that he knows nothing about Washington except the booming downtown area and Georgetown in Northwest, where he lives.
"I have been on the council for 23 years and I have helped to revitalize our city," the veteran council member said during a WAMU-FM mayoral candidates' forum on Feb. 26. "In 1991, when I came on the council, the city was akin to what Detroit is now and today our city is the envy of every major city. I have been a leader in school modernization and economic development and I will continue to work as mayor to revitalize our city."
Evans, who is from Nanticoke, Pa., and holds a bachelor's degree in Economics (cum laude) from the University of Pennsylvania's Wharton School and a law degree from the University of Pittsburgh, came to the District in 1978 to work for the Securities and Exchange Commission as an attorney. He got involved in Ward 2 politics – in the DuPont Circle neighborhood of Northwest as an advisory neighborhood commissioner – and became close to then D.C. Council member John Wilson (D).
In 1990, Wilson won the November general election as the chairman of the D.C. Council and Evans won the Ward 2 council seat in a special election in 1991.
As a council member, Evans worked to bring the MCI Center, now the Verizon Center, to the city from Prince George's County and played a key role in securing the votes in the D.C. Council in 2004 to build Nationals Stadium in Southwest, which brought professional baseball back to the city. He supported building the new convention center in Mount Vernon in Northwest and trumpets the new Marriott Hotel near the convention center, saying that it will produce 600 new jobs.
As the longtime chairman of the powerful Committee on Finance and Revenue, Evans has not hesitated to use his power to get what he wants from his colleagues, council observers said.
During the debate over the Nationals Stadium, Evans convinced his colleagues to support building the facility despite the numerous amendments to stop or stall it by D.C. Council member David Catania (I-At Large) and then D.C. Council member Adrian Fenty.
Former D.C. Council member Charlene Drew Jarvis, a Democrat who represented Ward 4 from 1979 to 2001, served with Evans and said that he focused on what he had to do to be successful legislatively.
"He is impatient for results which is a good thing," said Jarvis, 72.
Evans recently authored legislation that would create Business Improvement Districts in Wards 7 and 8. His bill would give city money to designated business corridors to clean up the streets in terms of trash and to fight crime.