Kim, Kanye Catch Flak for Vogue Cover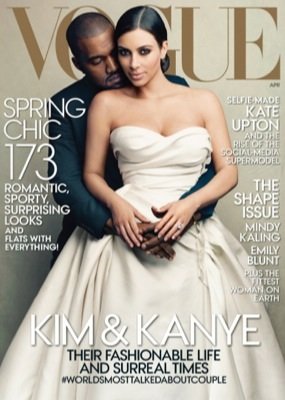 Hollywood's most polarizing power couple has everyone talking again with their upcoming appearance on the cover of Vogue magazine — and true to form, there's both backers and detractors.
Socialite and reality TV starlet Kim Kardashian and her fiancé, rapper Kanye West — dubbed "Kimye" in gossip pages — will grace the front of the esteemed glamour magazine's April issue, a spot normally reserved for supermodels and well-known faces from the fashion industry.
The photos of the pair and their 9-month-old daughter, North, were taken by famed photographer Annie Leibovitz.
Though the two certainly received positive feedback once the photos surfaced, there were also murmurs of them being unworthy of the cover.
Supermodel Naomi Campbell, who's appeared several times on the magazine's front, was asked her opinion but demurred, saying, "I'm a fashion model and I've been working for 28 years. When you get a Vogue cover, it's a building of a career and things done to achieve that."
Anna Wintour, the magazine's editor, defended her choice while debunking rumors that West had pressed her to put Kardashian on the front of the publication.
"As for the cover, my opinion is that it is both charming and touching, and it was, I should add, entirely our idea to do it," Wintour wrote in the magazine. "You may have read that Kanye begged me to put his fiancee on Vogue's cover. He did nothing of the sort. The gossip might make better reading, but the simple fact of the matter is that it isn't true."
According to UsWeekly, the couple plans to marry later this spring in Paris.