LETTERS TO THE EDITOR: A Vote for Bowser
3/26/2014, 3 p.m.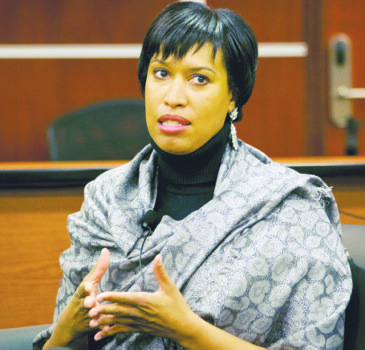 I was pleasantly surprised to read such a well-written article about D.C. Council member Muriel Bowser, who is running for mayor of the District of Columbia. Barrington Salmon's article, "Bowser's on a Future Quest for the City," [March 20, 2014] sheds light on some very interesting facts that I didn't know about Ms. Bowser, mainly that both of her parents are Washingtonians.
So, I would like to know why there is such a negative feeling about her in the community. I have read that she received campaign help from former mayor Adrian Fenty; do you think that would cause it?
Muriel Bowser is black, female, a native Washingtonian, and seems to be very intelligent, so why wouldn't we want her as our mayor? There must be some other issues out there that no one is addressing, or perhaps the issues are with us.
Candice Simmons
Washington, D.C.
Time to Reduce Unfair Sentences
I applaud the president and his staff for their attempt to reduce mandatory minimum sentences for minor drug offenses ["Reforming Mandatory Minimum Sentences," March 20, 2014, by Stacy Brown]. Everyone knows that these laws were enacted to get young black males off the streets during the crack epidemic that was taking place in most urban areas in the U.S.
The laws were racist from the beginning; whites whose choice of drug was powder cocaine were not given the same sentences as blacks caught with crack. At the same time the government spent billions of dollars to build new prisons around the country in rural communities where there was high unemployment to house these new prisoners.
The pipeline of young black males going to prison continues to this day. I know this effort will not dry up the pipeline, but hopefully it will give some a second chance.
Jamar Singleton
Washington, D.C.