Strong Open to Outdoor Season at Virginia Cup
3/26/2014, 3 p.m.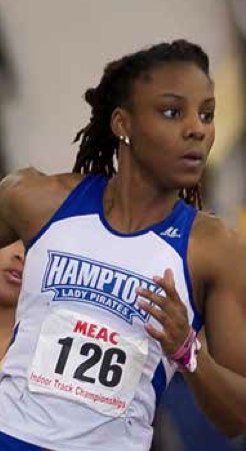 The Hampton University men's and women's track & field teams had a strong open to the 2014 outdoor season on Saturday, combining to win five event titles at the Virginia Cup at Lannigan Field.
The Lady Pirates won three events, while the Pirates took home two titles.
Junior Le'Quisha Parker (Silver Spring, Md.) won the women's 200-meter dash after running a 23.72, while sophomore Ce'aira Brown (Philadelphia, Pa.) ran a 2:11.45 to take gold in the 800-meter run.
Senior Breana Norman (Virginia Beach, Va.) won the 100-meter hurdles with a 13.60.
Norman and Parker were each on the 4x100-meter relay team – along with freshman J'Niyah Knox-Wilson (Hampton, Va.) and sophomore Tanisha Greene (Virginia Beach, Va.) – that came in second with a 47.46. Parker, Greene, and Brown were on the 4x400-meter relay squad – along with senior Malekah Holland (Brooklyn, N.Y.) – that took silver with a 3:43.24.
Senior Cydney Robinson (Portsmouth, Va.) ran a 56.60 in the 400-meter dash to finish second.
Norman was also fourth in the 100-meter dash with a 24.45.
The Pirates won gold in the men's 4x400-meter relay, as freshman Rayon Black (Kingston, Jamaica), junior Chidi Okezie (Philadelphia, Pa.), junior Edose Ibadin (Glendale, Md.), and senior Je'Von Hutchison (Boynton, Fla.) running a 3:12.40.
Ibadin also won the 400-meter dash with a 48.48.
Sophomore Trey Holloway (Chesapeake, Va.) turned in a pair of second-place finishes, running a 10.61 in the 100-meter dash and a 14.12 in the 110-meter hurdles.
Okezie was fourth in the 100-meter dash with a 10.76, while Ibadin ran a 22.12 in the 200-meter dash to come in fifth.
The Pirates and Lady Pirates will be in Raleigh, N.C. on Friday and Saturday to compete in the Raleigh Relays. For more information on Hampton University track & field, please call the Office of Sports Information at (757) 727-5811, or visit the official Pirates website at www.hamptonpirates.com.
LADY TIGERS OPEN CONFERENCE SLATE UNDEFEATED
The Jackson State University softball team went undefeated (5-0) during the Southwestern Athletic Conference Round-up this weekend at Lear Softball Complex.
With the streak, the Lady Tigers improved to 12-22 overall and 5-0 in conference play.
As a team, Jackson State went 53-for-126, averaging .421 at the plate. JSU had a combined 56 runs scored, 52 RBI, seven home runs, and six doubles.
Freshman Denisha Knight led the Lady Tigers recording a .636 weekend batting average, including nine runs, seven hits, seven RBI, two homeruns, and a double.
Sophomore Chelsea Smith added a 7-for-14 performance, tallying 10 RBI, seven runs scored, and two homeruns.
The Lady Tigers had a combined five homeruns against Grambling State University.
Jackson State returns to action Tuesday, March 25, when the University of Arkansas comes to town. Game one of the doubleheader is set for 4 p.m. at the JSU Softball Complex.

Follow the Lady Tigers on facebook @/JStateTigers, on twitter @/JStateTigers and on our official website atwww.jsutigers.com.
McGOWAN LEADS LADY TIGERS ON FINAL DAY OF TSU RELAYS
Tierra McGowan led the Texas Southern Lady Tigers with the best finish on the final day of the TSU Relays. McGowan finished second in the 800 meter run with a time of 2:10.04.