Young, Gifted & Insured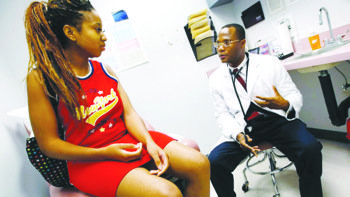 The last thing on Jacinta McCoy's mind was obtaining health insurance. As a 27-year-old graduate student and part-time waitress, McCoy believed her relative good health and access to the campus health center when necessary constituted all of the oversight required to maintain good health. However, a fall down a flight of icy stair during D.C.'s recent bout with inclement weather, a fractured tailbone, and a mountain of hospital bills has disabused her of that belief.
Like millions of uninsured or underinsured Americans, McCoy factored in every aspect of preventative health, except, the unexpected. And when unexpected accidents occur, few escape the consequential exorbitant bills and red tape of insurance reimbursements.
"I really thought that the bill I received from the emergency room was an error – Really, you charge someone more than three hundred dollars for 'triage' alone. Taking my blood pressure, temperature, and being asked four or five questions about why I am there cost me half a week's paycheck," said McCoy, who aged out of her parents' plans a year earlier. "I have heard people spit bullets over ObamaCare and all that it is supposed cost, but I would rather pay a few hundred a month for total coverage than the thousands I owe now."

All Americans, including young adults, will have to obtain health coverage by March 31, if they can afford it, or get an exemption. Some quick facts to help understand what ObamaCare means for young adults include: Of the 18% of young adults who won't qualify for cost assistance, only 15% will be left to buy unsubsidized private insurance due to employers offering coverage, student health insurance plans, and young people being able to stay on their parents plan until 26; Half of single young adults who are eligible to buy health insurance on the marketplace could get covered for $50 or less due to cost assistance; and Cost assistance is only offered through your state's health Insurance Marketplace.
More than three million young adults who didn't have coverage before now have stayed on their parents' plans until age 26.
Uninsured young people will also be able to gain insurance through work due to the 2015 employer mandate or being able to stay on their parents' health plans. In a recent study of nearly 2,000 young people, only 5% said they didn't feel they would need health coverage. The majority of young people choose to have health insurance when an affordable option is offered through school or the workplace.
The Affordable Care Act, or ObamaCare, helps young adults in lots of ways. The truth is the new health care law has been in effect for 3 years already and so many young adults have already benefited from the new rights and protections. If the Affordable Care Act were actual medicine, it would be good for you! However, nothing is for free and in exchange for all of your new rights and protections ObamaCare also mandates that young people (along with everyone else) obtain health coverage starting in 2014.
How Does the Individual Mandate Work?
The Individual Mandate works like this, most Americans who can afford health insurance either need to get coverage, get an exemption or pay a per-month-fee on their Federal tax returns. Get the details on the individual mandate here.
Your tax penalty for not having insurance is paid on your taxes at the end of the year. If your taxable income is below 133% of the FPL you are exempt from this tax.
2014 = $95 per person per year or 1% of your Income; 2015 = $325 per person per year or 2% of your Income; and 2016 = $695 per person per year or 2.5% of your Income.
To purchase health insurance through the Health Insurance Marketplace, or to obtain additional information, visit www.heathcare.gov.