White House: 6M Have Enrolled in Obamacare
3/27/2014, 6 p.m.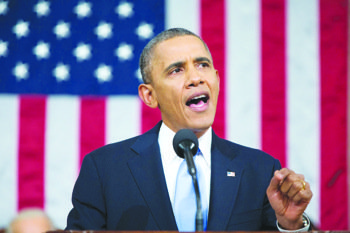 The Obama administration announced Thursday that 6 million people have signed up for health insurance under the president's Affordable Care Act — an accomplishment hailed by the White House as significant progress after a turbulent rollout of the law.
The number was initially expected in October during the launch of Obama's signature law to be near 7 million by the March 31 deadline, but well-documented glitches on the federal website portal, HealthCare.gov, significantly slowed the sign-up period, forcing officials to scale back the projection to 6 million.
Federal officials announced earlier this week that anyone who has begun the enrollment process by March 31 will still be allowed to complete their application after the deadline, though it wasn't specified how much time after the deadline they would have to do so.
The administration said problems with the website have largely been rectified and that the site's error rate is less than 0.5 percent, with an average response time of less than half a second.
Under the Obamacare initiative, most Americans are mandated to have health insurance by the end of the enrollment period. Those without coverage after the March 31 deadline will be required to pay a penalty next year when they file their 2014 tax returns.
Anyone who misses the open enrollment period will have to wait until for the next sign-up period, which begins Nov. 15 and runs through Jan. 15, 2015.